TT Health Special: Benefits of early diagnosis for memory loss
16 November 2016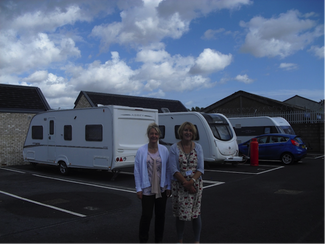 Gypsy's and Travellers who have memory loss or are looking after someone becoming more forgetful are missing out on help by not getting their symptoms checked early. This is what organisations like Carers Support West Sussex and Alzheimer's Society are finding.
We often think our memory not being as good as it was, is a natural part of getting older, but if your memory starts to affect your everyday life, it may be a sign of dementia, and finding out as soon as possible could mean getting the right help.
 
There are a number of signs of getting more forgetful, for example, do you:
 
Struggle to remember recent events, but can recall things that happened in the past
Forget the names of family ,friends or everyday objects
Find it hard to follow conversations or programmes on TV
Leave objects in unusual places, or forget how to do everyday tasks
West Sussex Gypsy Mrs. Ayres says:

'If you are worried that someone you know is becoming more forgetful, it's really important to encourage them to visit their Doctor.'
Myths and Truths About Dementia
Myth "Dementia is just part of growing older"
Truth Not necessarily.  It is more common in people over the age of 65 but younger people can have it too.
Myth "I won't be able to do the things I am used to"
Truth A diagnosis of dementia does not mean you need to stop doing the things you enjoy. In fact, it's important you continue living the life you want and having control of your life.
Myth "Having a diagnosis will not help me"
Truth The symptoms of dementia can get worse over time, but having a diagnosis will help you and your family get the care and support you need.
Mrs Ayres explains how getting a diagnosis, helped her and her family:
'We wanted to know what was causing my mother-in-law's forgetfulness, so we could give her the right help.' 
'If it is dementia, some people can be given *medicines like our Margaret. This delayed the condition's progress and reduced some of her symptoms. This really helped her and has made it easier for me to look after her.'
'Our family and community are very supportive and with professional advice we learnt more about the condition, how to adjust and help keep Margaret safe and well at home and in our community.' For example, if she goes to wander off site, someone would go over to her and help her home, before she goes too far. We learnt about equipment too, so now she has a door sensor, so we have extra peace of mind knowing when she leaves her home in case there's no one around.'  
Looking after someone with memory loss becomes harder as time goes on. Having a diagnosis can really help get support when you need it, but some help is available before a diagnosis.
Carers Support, Gypsy and Traveller Outreach Worker Amanda says:
'We understand travelling communities help to look after each other, so we can make suggestions that make things easier for friends and relatives supporting people at home. We can visit you to talk about anything that is worrying you and make suggestions that may help. Some travellers I have visited have found equipment like falls alarms, pill dispensers and gas detectors have reduced the worry of leaving people alone. Others found funding for travel costs like hospital visits and errands they do for others helped the costs of caring. Some travellers found me arranging benefits advice and being put in touch with other services on their behalf, really useful. Carers Support can offer all this help whether there has been a diagnosis of dementia or not.'
If these sound like things that would help you, then please contact us at: 

Carers Support West Sussex
Tel: 0300 028 8888 (Monday to Friday from 9am to 5pm, 7pm Wednesdays
10am-12pm Saturdays)
E mail: info@carerssupport.org.uk
Or contact your nearest carers support centre.
A list is available at Carers UK
Tel: 0808 808 7777
Other help

Alzheimer's Society
Tel: Sussex Helpline - 01403 213017 (Monday to Friday from 9am to 5pm)
E mail at sussex.helpline@alzheimers.org.uk
National Helpline 0300 222 1122
*Medicines may not be right for everyone with a diagnosis of dementia.  Your GP will be able to give you more information.
MAIN PHOTO CAPTION: Amanda and Nicky from Carers Support visiting travellers who are carers in West Sussex
---