Travellers' Times Autumn 2019 Magazine OUT NOW!
20 November 2019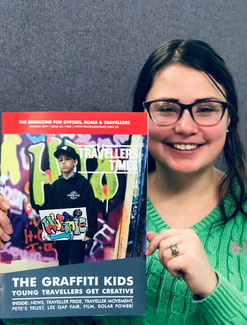 The autumn 2019 edition of the free Travellers' Times Magazine is out now!
Included in this packed, full colour, 16 page edition: News, Traveller Pride, Its Kushti to Rokker, Ghost Gypsy, Traveller Movement, Pete's Trust, Lee Gap Fair, film, Youth Travellers' Times, and solar powered Traveller sites!
Contact travellerstimes@ruralmedia.co.uk for subscriptions, or call us on 01432 344039.
(Picture: Travellers' Times Youth Editor Lisa Smith with the new edition of the Travellers' Times Magazine)
---