Travel is in their blood
8 June 2022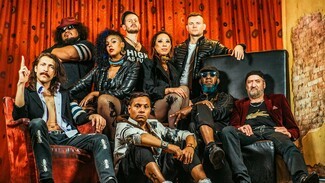 Meet Eugene Hutz, the Ukrainian half-Romani singer of Gypsy/punk band Gogol Bordello 
Gogol Bordello, an American punk rock band from Manhattan. Several of the members were invited on stage in 2007 by Madonna to play her song La Isla Bonita with a twist: it had been remixed with a traditional Romani tune Lela Pala Tute.
Gogol Bordello features artists from all around the world and they tour almost relentlessly
Travel is in their blood.
In addition, the band also raises money for charitable causes; the most recent being Ukraine after it was invaded by Russia in February of this year.
Lead singer Eugene Hütz, who is of Russian and Servitka Roma ancestry, recently released a charity single with several collaborators including Les Claypool and Sean Lennon, entitled 'Zelensky: The Man With The Iron Balls'. The proceeds will go towards Nova Ukraine, a US based charity which aims to help raise awareness on the Ukraine conflict.
Gogol Bordello have also announced a one-off charity show in support.
Gogol Bordello is named after an amalgamation of some of the band's favourite words; 'Gogol' being after a favourite author who 'smuggled' Ukrainian culture into Russian society, Nikolai Gogol - the band intends to do the same for Eastern European music into the Western world - and 'Bordello' being an Italian word for a brothel, or gentlemen's club. Hütz has been the lead singer of the group since 1999.
Hütz emigrated from Ukraine in the 1980s with his family, spending seven years trekking through Eastern European refugee camps before they finally settled in Vermont, USA, in 1992 as political refugees.
Gogol Bordello have released one song with reference to Hütz's heritage. This is 2014's My Gypsy Auto Pilot. Interpreting the lyrics of the song, I believe that it is about how it is in the narrator's nature to travel, and how they perhaps do not even do it mindfully; it is in them to do it, and they have an auto pilot because of their Gypsy heritage. However, the song does not refer singularly to the travelling aspect of the narrator's life, but also how they go through life on an autopilot which is steered by the influence which their heritage has on them.
In a 2007 interview with English newspaper The Independent, Hütz was asked if his music is sometimes misinterpreted by those outside of the Romani community, and he was annoyed by accusations against his heritage. The question came after he came under fire when the director of the Kiev Gypsy Theatre objected to Hütz's brand of Gypsy fusion music..
Hutz replied; "It's rather about people's own problem of misunderstanding what a gypsy really is. If these people actually meet me they walk away with their head upside down because it becomes too obvious to them that they don't know what the f*ck they're talking about. If my actual Roma community say these things then I would be concerned… everybody wants me to represent the Roma. I'm a member of two Romany rights organisations: one in the Ukraine, one in the US. I was also the first to go onto American national television and sing in Romany."
The charity single Zelensky: The Man With The Iron Balls is a cross between a serious song and an attempt to lightly explain the situation in Ukraine, using phrases such as 'the big bear' to refer to President Putin of Russia.
The video is simple, and does not distract from the message which the song is trying to deliver - that President of Ukraine Zelensky is not alone in standing against the opposition. "Go for first-hand information and transmute it into wisdom," says Hütz, "share it with the people in a communal celebration." This is demonstrated in the chant-like way in which the song is sung, featuring lyrics like "one man can make a difference!" and "revolution of dignity!" These are more mantras than lyrics, actually, though do not carry the same weight as collaborator Sean Lennon's parents' 'Give Peace A Chance' (1969).
Writer of the song Les Claypool said: "After a couple of weeks of file trading with [collaborators]... we now have a recording to help rally support for a bullied country and a David vs. Goliath-type man who stood up for their liberty, freedom, and homeland." It is to Zelensky which he refers.
There is a glaringly obvious Romani sound to Zelensky: The Man With The Iron Balls, and whilst it is unlikely that it is an ode to Hütz's heritage - which he only discovered during his family's seven year escape from the radioactive Chernobyl disaster - it can be acknowledged that his heritage is a big part of other music from Hütz, and that with Gogol Bordello.
In a 2022 interview with The Guardian, Hütz said of the song; "I was trying to find something less bouncy, sound-wise."
Gogol Bordello have been releasing music since its formation in 1999, and is definitely an acquired taste! When listening to their music, I thought immediately of Eastern Europe; this is the sound that comes across in every single track. However, none of them are boring. They are all unique, and the music videos are fun too - but very basic. I quite like the character in some of their songs, especially Wonderlust King, which was released in 2008. The video features Hütz singing along and playing guitar in different situations and places to people who look like they have no idea what is going on. It is, I think, quite comical. The chorus is very catchy, though, and it did stick in my head for several days after I stopped listening to it. Whether that makes a song a success or not is up for debate, because it got annoying in the end.
As far as I could tell, Gogol Bordello have not released any albums since 2017, however the band have a new single available on a collaborations album, which is hopefully going to raise money for the ongoing Russia-Ukraine conflict. Alongside their song is Ukrainian band Mandry's 'Towers', which was recorded on a phone during combat duty in defence of Kyiv.
I had never heard of Gogol Bordello before googling them for this article, but I was pleasantly surprised. They are exciting and enigmatic, with a frontman who is not just full of himself (as so many of them tend to be), but rather has bigger plans than just getting his name and that of the band out into the limelight. Whilst a lot of the band's music is not my forte, I did like The Man With The Iron Balls, and a few other choice songs from the back catalogue.
By Ruby Smith
---