Romany 'Catapult Kings' set to compete in Slingshot World Cup
23 February 2018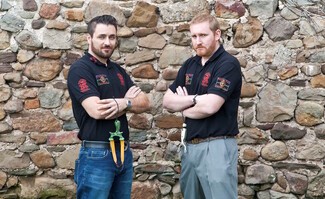 Competitors from the Romany Catapult Club are set to compete in the Slingshot World Cup in Italy in June later this year.
Keith Dighton, Asa Wilson, Josefe and Narny Botton, Isaac and Leo McMillan, Joseph Clark, Frank and James Wass, Mark Clark, Chris Graffin and John Jeffries, all members of team Romany Custom Catapults, will be jetting over to the four day international tournament in Gualdo Tadino, Umbria, to fly the Romany flag.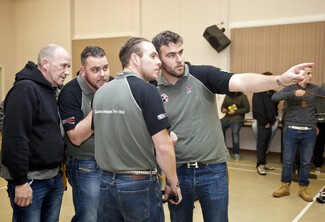 Speaking to the Travellers' Times, Keith Dighton said they were all raring to go and the flights were all booked.
"We have got some serious silverware winners in our team. We have been practising our butts off and I fully expect one of us to be crowned World Champion," he said.
Romany Custom Catapults is the bespoke sports catapult making business belonging to Asa Wilson and Team RCC are also sponsored by Continental Homes.
Cattie Bugatti - Asa Wilson's Romany Custom Catapults makes the best catapults in the world
Keith Dighton and Asa Wilson, along with three others, co-founded the British Catapult Association and run competitive catapult tournaments across the UK. They recognised a need for people to shoot with catapults on a competitive basis because the standard of skill was so high - but there was nowhere to progress to.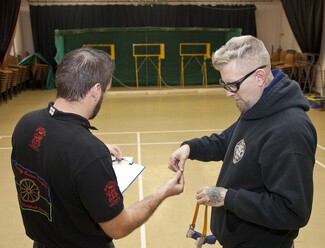 The BCA has been running for five years and was soon joined in competitive catapult shooting by the UK Catapult Association.
The sport is constantly growing and events take place three times a year throughout the UK. The sport is attracting lots of men and young boys – and a few girls - from the Travelling community, and they are taking part in both the shoots and on the expanding online catapulting community forums for the sport.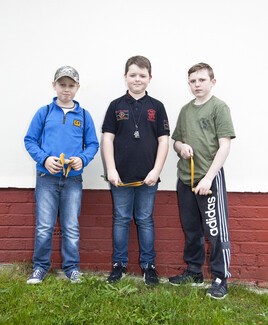 Keith Dighton has been catapulting for as long as he can remember and he was taught by his grandfather and father. He has been shooting competitively - both at 'field' events and target shooting - for nearly five years and 'absolutely loves it'.
Keith Dighton demonstrates catapult skills
Asa Wilson is a maker of catapults and has had such demand that he has given up his previous day job in order to produce high quality custom catapults which are used by some of the best shooters in the UK.
Many of the regular competitors are aiming to make catapulting an Olympic recognised sport and there are now catapulting events and associations in Spain, Ireland, Italy and the USA.
The next UK catapult sports shoot takes place in Newport, Wales on the 10th March. Contact the BCA or the UKAC for details.
A catapult shoot in Newport, Wales
By Mike Doherty/TT
Main picture: Keith Dighton and Asa Wilson © Jean Goldsmith
---