Roma Boys: an award-winning Czech film about homosexuality in the Roma community
4 August 2017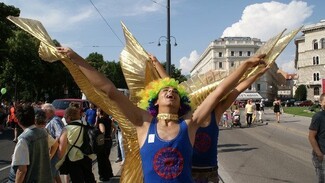 'Roma LGBTIQ people, who live right here in our midst in Europe, need support and solidarity' says Rainer Schulze.
Up until today homosexuality among the Roma has remained a taboo topic. Young Roma who are gay, lesbian, bisexual or transgender all too often find themselves in the terrible position of either having to deny who they are, or being excluded from their community and families.
The Roma as a whole face a climate of prejudice, hostility and social exclusion all across Europe, but Roma LGBTIQ people face multiple discrimination not only from the majority societies, but also from within their own community and families: they are discriminated as Roma by the majority societies, they are often discriminated by their own Roma communities because they are LGBTIQ, and they are discriminated by the wider LGBTIQ community because they are Roma. If one looks more closely, for example, at lesbian Roma, or transgender Roma, there are even more layers of discrimination.
Roma LGBTIQ people, who live right here in our midst in Europe, need support and solidarity, yet they find it all but impossible to make their voices heard, and there is very little to virtually no funding at all available for advocacy work on their behalf.
There is also very little representation of Roma LGBTIQ in film. One of the few films that deals with the topic of homosexuality in the Roma community is the Czech documentary-style film ROMA BOYS: THE LOVE STORY, directed by Rozálie Kohutová.
The screenplay was written by Czech Roma activist David Tišer, and it is essentially his own story that he is telling. David's standing in the Roma community as a Roma rights activist was threatened by his coming-out, and he wanted to share his life story, and his love story: "the story of two Romani boys and their love for each other".
(Picture caption: David Tiser)
It's a vibrant and colourful film about love and activism, both funny and painful, but most importantly, it throws a light on the situation of Roma LGBTIQ people. By telling the very different stories of the two main characters, the film helps and supports other LGBTIQ Roma in their struggle not to deny who they are and instead be both: Roma and LGBTIQ. As David puts it in the opening of the film: "The Roma constantly cry about how they are discriminated against. But they don't realise that even they discriminate."
The film has won a number of awards, but it is not as easily available as it should be. On 7 August 2017, it will be screened, together with a chat with David Tišer, in TALES FROM THE MARGINS, a film programme which I developed for Latest LGBT+ TV Brighton.
It is a film not to be missed! Here is a short teaser: https://www.youtube.com/watch?v=D2CLlW5Mius&feature=youtu.be
ROMA BOYS: The Love Story. Czech Republic 2009 (in Czech/Romanes with English subtitles).
TALES FROM THE MARGINS is a weekly film programme on Latest LGBT+ TV which runs Mondays at 9pm and is repeated Fridays at 9pm.
ROMA BOYS will be shown on Monday, 17 Aug 2017, 9pm and repeated on Friday, 11 Aug 2017, 9pm.
Latest TV covers Brighton, Hove, and Worthing, and is available in this area on Freeview channel 7 and Virgin Media channel 159. The programmes can be watched everywhere online via livestream at www.thelatest.co.uk/latest-tv/
By Rainer Schulze
---