Richard O'Neil's Gypsy Traveller stories in new cartoon books for children – TT book review
21 July 2016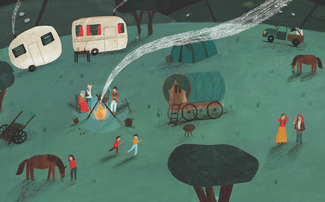 Child's Play has just published two new cartoon books for children that celebrate Gypsy and Traveller life.
 Ossiri and the Bala Mengro and Yokki and the Parno Gry, celebrate travelling lifestyle and culture and demonstrate the resourcefulness and hard-working nature of these communities. A much maligned and misunderstood group, negative stereotypes pervade the media. The publication of these books aims to cultivate a better understanding of their values.
Co-written by Katharine Quarmby, journalist and author, and Richard O'Neill, a sixth generation Romani storyteller, who learned his skills from some of the best Travelling storytellers in the United Kingdom, the project has the Romani community at its heart.
Ruby Leigh-Smith, 13, has kindly reviewed the two cartoon books especially for The Travellers' Times.
Here is what Ruby thought of the books: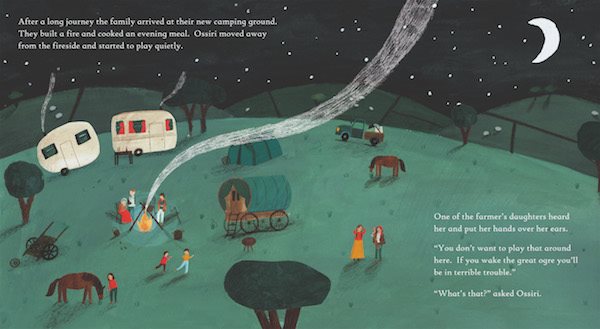 Ossiri and the Bala Mengro
This book, Ossiri and the Bala Mengro was a fantastic read, all though it is mostly suited to younger children as there are a lot of pictures. The illustrations are colourful, entertaining and show what is happening in each part of the story well.
I appreciated the use of Romani language included and thought this was a good basic understanding for the wider community who could also enjoy this book as well as making me feel attached to the story. Furthermore, the book was well written and well structured, it introduced the protagonist, Ossiri, first, her and her family's culture and then her family and their trade.
This book could help to broaden the knowledge about Travellers in the wider community because it explains a way of life through the views of a young girl who cannot be more than nine or ten, meaning that she is still innocent and therefore not blinded by hatred and not targeted for her ethnicity or culture.
In my opinion, this book is good for children under the age of ten because it is a picture book, and also explains Gypsy and Traveller heritage and way of life.  This book would be good for teaching young children in the Gypsy and Traveller community to read as it is about them and their family, but it is also fun and educational. The illustrations bring the story to life and explains what the book is trying to say.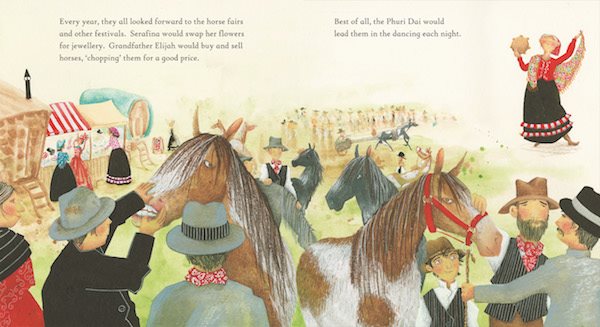 Yokki and the Parno Gry
This story made me feel hopeful towards the future. 'Yoki and the Parno Gry' is a wonderful tale of what a child's hope and imagination can bring to a family, it's just an added bonus that it's about the Gypsy and Traveller community.
Yokki is an imaginative young Traveller boy who brings his family happiness during their darkest hours, and the Parno Gry only fuels those dreams of happiness. The illustrations are marvellous; they're colourful and bright and bring the story to life, it was almost as if the words were being shown like the story was a TV show.
This story is excellent, and I'd recommend it to all ages between one and one-hundred. It'd make an excellent bedtime story, a classroom storytime book or just something for kids to read in their spare time. The author has truly done a good job with these, they make older children laugh and make younger children question who they are and what their heritage is. Another good thing about this story is that kids from the wider community could read and enjoy it, as Yokki is a kid, I felt like I could connect with him, and I think a lot of others would too. He is a typical child, colorful, imaginative and hopeful and to have such a relatable character is to spur the story on. Yokki's story is one that I would read again.
By Ruby-Leigh Smith 13
And Ruby's mum, Sherrie Smith, had this to say about the books:
As a parent I would invest in both these books for my children, they are so well and clearly illustrated that the stories seem to come to life. This also means toddlers would enjoy the pictures and older children would enjoy the story.
The expressions on the faces and little details like the birds embossed on the horses coat make you think the horse can fly subconsciously. Very clever. The language and the way that the characters explain various Romani words and situations give depth to the story. A real must for anyone who wants to start to introduce our language, cultures and belief's. I recommend every school gets a copy of these.
The books can be purchased by following these links:
Yokki: http://childs-play.com/bookshop/9781846439261.html
Ossiri: http://childs-play.com/bookshop/9781846439247.html
Or by contacting Child's Play direct.
---