Peter Mercer M.B.E. - 22.1.1934 - 17.1.2017
20 January 2017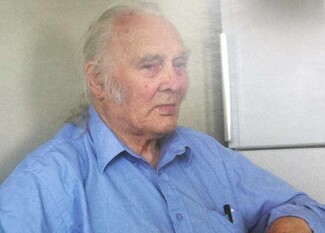 Peter was born on the 22nd of January 1934. He was a proud father of 10 children; Paul, Maria, Kerry, Yvette, Peter, Gary and John (both of whom pre-deceased their father). Peter and his third wife Ruth, had Terry, Nathan and Charmaine.
Family was very important to Peter and he was proud of having over 20 grandchildren and 5 great grandchildren. His daughter Kerry tells me "Our Dad has always been our hero." Ruth was a great support for Peter, both in their family life and when he pursued his endless campaigning work. Our condolences are with his family.
In the early 1950's Peter joined the Army, firstly as a conscript and then as a regular, with the Duke of Wellington's Regiment. He was awarded medals for both his service in the Suez Canal and in Cypress. Peter was also Tri Service Boxing Champion for three years in a row whilst serving.
When Peter moved to the Oxney Road Caravan Site, he was fondly known to Travellers as Peterborough Pete. A tall man, he stood out from the crowd.
He is probably best remembered for his tireless campaigning for the rights of Gypsies and Travellers over the last forty or more years. Active with the East Anglian Gypsy Council, his work also took him to Europe.
Pete is probably most well-known for his crucial role in the landmark Court of Appeal judgment in Commission for Racial Equality v Dutton, which established that Romany Gypsies were entitled to protection under the United Kingdom's Race Relations Act, and supported the petitioners in Chapman v United Kingdom (European Court of Human Rights, Grand Chamber) which established the positive duty owed by Member States of the European Convention on Human Rights to protect the Gypsy way of life. Latterly Peter and I became Trustees for the National Federation of Gypsy Liaison Groups, with him holding the office of Chair and myself Vice Chair.
Peter's lifetime work for Gypsies and Travellers was officially recognised in 2000 when he was awarded the M.B.E. for his work. He was very proud when, along with other Romanies we both attended the first Remembrance Day parade in London that recognised the valuable contribution the community had made to this countries armed forces.
Peter was professional in his work for the community, prepared to travel any distance at home or abroad at the drop of a hat. He attended meetings, conferences and trainings with unfailing dedication and was unstinting when it came to sharing his knowledge and experience in any way he could. His calm approach to difficult situations earned him great respect.
Staff at the Royal National Hotel in London, which we often used, always had a soft spot for 'Uncle Pete'....happy to turn a blind eye at the breakfast bar as he slipped a few hard boiled eggs into his pocket, "just to tide him over" till lunch time. Staff at a Birmingham hotel were less happy when Pete accidentally checked out with the T.V. remote in his pocket....they chased us up the street to reclaim their property. It was all taken in good part and we had a good laugh about it afterwards.
Travellers have lost a great ambassador, advocate and supporter, we have all lost a good and loyal friend. It's fitting that the last words should go to the Gypsies and Travellers themselves, there is no more fitting tribute than the way they describe Pete in their own words. In no particular order; "A great man, a proper gentleman, a wonderful human being, a lovely man, will be very sadly missed and never forgotten."
(c) Ryalla Duffy 2017.
Photo (c) NFGLG, used with kind permission.
---