Lawyers opinion on police powers and unauthorised camps by Travellers with motor vehicles and caravans and/or horse drawn wagons
18 January 2019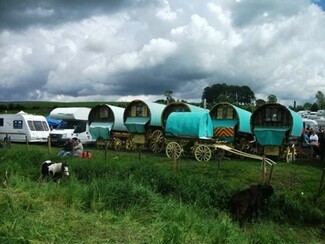 To find answers to queries from some campaigners about the police powers (Section 62A-E CPJO Act 1994) to force Travellers to move from unauthorised camps to other land, such as transit sites or 'negotiated stopping sites', or face arrest, the Travellers' Times contacted Traveller law experts lawyer Chris Johnson from Community Law Partnership and Queens Consul (barrister) Marc Willers from Garden Court Chambers.
The many queries we received roughly corresponded to the following two questions below:
1) Can police use their section 62 powers to direct Travellers in vehicles onto council ad-hoc negotiated stopping sites? Or does it have to be a transit site with planning permission for this purpose?
2) Can police use their section 62 powers to direct unauthorised horse drawn camps - or camps with both vehicles and horse drawn - onto council transit sites that do not have provision for horse grazing?
The Traveller law experts – who wrote the Gypsy and Traveller Law book for legal practitioners and campaigners (about to be published in its third edition) – kindly provided us with the following full legal opinion. The TT is extremely grateful to Chris and Marc for taking the time to compile this opinion especially for our readers.
In summary (our TT summary) the lawyers said that horse-drawn wagons could be directed by police from an unauthorised camp using section 62 powers, but only to a site with grazing, and that furthermore in their opinion the police could only direct horse drawn wagons and/or motor vehicles to an authorised transit site with full amenities (and grazing if its horse drawn) and planning permission that allowed for a stay of up to three months. This – say the lawyers – would make the use of police section 62 powers to direct Travellers to an ad-hoc 'negotiated stopping site', rather than a purpose built transit site, potentially unlawful and open to challenge.
The lawyers full legal opinion is published in full below:
Legal opinion from Chris Johnson, Community Law Partnership, and Marc Willers QC, Garden Court Chambers:
(Starts)
Your queries relate to CJPOA 1994 s62A-E and horse drawn Travellers. Section 62A states:
(1) If the senior police officer present at a scene reasonably believes that the conditions in subsection (2) are satisfied in relation to a person and land, he may direct the person –
(a) to leave the land;
(b) to remove any vehicle and other  property he has with him on the land.
(2) The conditions are –
(a) that the person and one or more  others  ('the trespassers') are trespassing on land;
(b) that the trespassers have between  them  at least one vehicle on the land;
(c) that the trespassers are present on the land with the common purpose of residing there  for any period;
(d) if it appears to the officer that  the person has one or more  caravans in his possession or under his control on the land, that there is a suitable pitch  on a relevant  caravan  site for that  caravan  or ach of those caravans;
(e) that the occupier  of the land or a person acting on his behalf has asked the police to remove the trespassers from the land.
(3) A direction under subsection (1) may be communicated to the person to whom it applies by any constable at the scene.
(4) Subsection (5) applies if –
(a) a police officer proposes to give a direction under subsection (1) in relation to a person and land, and
(b) it appears to him that the person has one or more caravans in his possession or under his control  on the land.
(5) The officer must consult every local authority within whose area the land is situated as to whether there is a suitable pitch for the caravan or each of the caravans on a relevant caravan site which is situated in the local authority's area.
The definition of 'vehicle' is extremely wide. CJPOA 1994 s61(9) states:
'vehicle' includes –
(a) any vehicle, whether or not it is in a fit state for use on roads, and includes any chassis  or body, with or without wheels,  appearing to have formed part of such a vehicle, and any load carried by, and anything attached  to, such a vehicle; and
(b) a caravan as defined  in section 29(1) of the Caravan Sites and Control of Development Act 1960.
So, importantly, a caravan counts as a vehicle.
A 'caravan' is defined, under Caravan Sites and Control of Development Act (CSCDA) 1960 s29(1), as:
... any structure designed or adapted for human habitation which is capable of being moved from one place to another (whether by being towed, or by being transported on a motor  vehicle or trailer) and any motor  vehicle so designed or adapted, but does not include  –
(a) any railway rolling stock which is for the time being on rails forming part of a railway system,  or
(b) any tent ...
CJPOA 1994 s62A refers to identifying a suitable pitch for a 'caravan'. The definition section gives the word 'caravan' the same meaning as that given to it in the CSCDA 1960.  If the Gypsies or Travellers are residing in benders or tents the section  does not apply. This differs from section 61, which can be used against Gypsies or Travellers residing solely in benders or tents. However, it is nowadays rare to come across Gypsies or Travellers residing in benders or tents, so there will be few cases where this issue arises in practice.
However presuming that the horses are pulling barrel top wagons these would come within the definition of 'caravan'.
Therefore section 62A can be used against HD Travellers. So the question turns to 'suitable pitch'.
The inclusion of the word 'suitable' re the pitch is important. No case-law exists at present to help in the definition of 'suitable pitch'. The ODPM Guidance on Managing Unauthorised Camping (February 2004, hereafter the '2004 Encampment Guidance')  states:
The meaning of suitable pitch is not defined in the legislation. Of course, it is for the courts to interpret legislation, but the Secretary of State considers that a suitable pitch is one that provides basic amenities including water, toilets and waste disposal facilities. Other factors include the potential for community tension and issues of public order/anti-social behaviour need to be considered especially where the trespasser intends to remain on the site for the three month period. This could include an authorised transit site or stopping place. There should be a reasonable expectation that the pitch will be available for peaceful occupation for at least three months, except where the trespasser is expecting to move on before that  time.
Additionally, the 2004 Encampment Guidance states that:
A suitable pitch will only be available if there are currently no waiting lists for that site.
As I said in my initial e-mail, if there is no grazing for horses it would seem that any site would not be 'suitable'.
Additionally, The pitch must be on a 'relevant caravan site' which is defined as:
... a caravan site which is –
(a) situated in the area of a local authority within  whose area the land is situated, and
(b) managed by a relevant  site manager.
I think clearly the site would, therefore, require planning permission. The 3 month period BTW relates to the fact that transit sites are defined in Mobile Homes Act 1983 as sites where you can only stay for up to three months.
Therefore, if a Gypsy or Traveller is encamped in the area of a district council, the site could be anywhere within the relevant county council area. 'Relevant site manager' is defined as:                            
(a) a local authority within whose area the land is situated;
(b) a registered social landlord.
Therefore the site must either be managed by the local authority or by a registered social landlord, such as a housing association. If the site is managed by some other organisation, even if it is owned by the local authority in question, it will not be a 'relevant caravan site'. This is an important point for advisers or solicitors to be aware of.
Conclusion
I don't see that negotiated stopping sites would apply re s62A because, by definition, that is a site where an agreement has been negotiated between the local authority and the Travellers in question.
It seems unlikely that the police will be able to use CJPOA 1994 s62A to evict Gypsies and Travellers until local authorities provide sufficient sites for them. According to a report on the Guardian website in 2011, there were only 287 transit pitches in the whole of England.[7] However, there was no indication in the report of how many of those transit pitches had sufficient amenities for them to be deemed 'suitable'.
(Ends)
From TT News
---