"I started tatting when I were a baby in a pram" - Amanda Reed
16 February 2018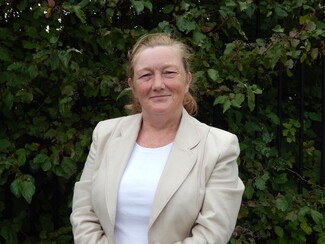 The Travellers Times talks to Amanda Reed, the founder of the heritage and family history Facebook group 'Gypsyville', about family history, growing up in Leeds, the rag and bone trade - and the BBC TV series Steptoe and Son.
I met Amanda Reed last year at the offices of Leeds Gypsy and Traveller Exchange (Leeds GATE), the award winning 'front line' and campaign charity for Gypsies and Travellers in Yorkshire. Amanda, in her early fifties, has strawberry blond hair and talks with soft west Yorkshire accent. Amanda was born in Armley, Leeds, in 1964 and her family name is Cunningham. Amanda is related to John Cunningham, the Gypsy Victoria Cross medal winner from the First World War. Some of her first memories are "tatting" with her mum in a horse and cart hired from Jimmy Tebb's yard - a local scrap dealer back in the days when Amanda was a child. Amanda now runs the 4,000 strong 'Gypsyville' Facebook group – a place to discuss and share Gypsy heritage and family history.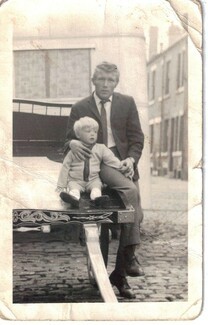 Me Mam passed her driving test and she got a blue Transit van and I didn't enjoy it as much then
 "I started tatting when I were a baby in a pram," says Amanda, adding that it was her mum (Cathrine Nicholson nee Carlisle 1942 – 2012) that took her scrap collecting. "I think she were the only rag and bone woman in Leeds," she laughs.   "We were old fashioned tatters we used to get off horse and cart and knock on doors, me mam would put me in the buggy and push me down the street knocking on doors and if there were a bit of scrap I would be sat with it on my knee." Amanda adds that she used to love the horse and cart but then 'progress' got in the way in the shape of a blue Ford Transit. "Me Mam passed her driving test and she got a blue Transit van and I didn't enjoy it as much then," says Amanda. Plus it also meant that they had to start cutting the grass in their garden as there was no longer an occasional hired horse staying overnight to eat it, Amanda tells me.
As someone who was born in the same year as Amanda, and who was brought up in a terraced city street and with a rag and bone man (and horse and cart) just a few doors down, I mention a certain iconic TV sitcom I used to watch as a child. "Ah - Steptoe and Son!" Amanda smiles and laughs. "I thought it was alright really – it were funny. We were just trying to earn a living and were doing it in different ways. But Steptoe and Son really reminded me of me Grandad (Amanda's Mum's Dad – family name Nicholson), because when you went into my Grandad's house, there would be a fruit machine, there would be a battery charging in one corner, you could go in and there would be all kinds. There is nothing obscure enough for me to say that it wouldn't be there. It just depended what he was selling at that time, because he were a bit of a car dealer, so you would have a couple of American cars and that outside. So me Grandad were a bit like Steptoe – we used to call him Steptoe anyway." Again Amanda laughs as says this. It's an n infectious gentle laugh as she recalls fond family memories.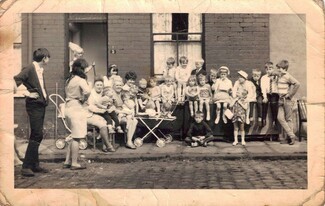 Amanda was born and brought up in a house, but as is often the case with housed Romany Gypsy families back then (and for some  – nowadays as well), her Mum and Dad kept a trailer and they often took off and went Travelling and earnt a living on the road. "We always lived in a house but we always had a trailer and would go off in the summer and me Dad (Jeremiah Cunningham 1939 – 2014) - he would work on mending roofs, or sometimes he'd do (knife) grinding.
Travelling did affect her schooling, Amanda admits, but she says her love of books, plus being a self-confessed "culture vulture", meant that her education did not rely on the state education system and she was, in many ways, self-educated. "I always went to school," says Amanda, "but I used to miss a lot of schooling in the summer and I used to find it really hard to catch up when I got back and me hardest subjects where maths. I hated maths, and when we got onto logarithms and things like that I just couldn't do it. But I've never had any problem adding up and dealing with numbers so far. But what I used to do was knock off school and go into town and go to museums and the library and the art gallery."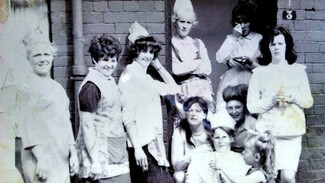 The story that I tell is called 'Gypsies under the bed
But one thing played on Amanda's mind, something that would eventually lead to the setting up of the Gypsy family history and heritage Facebook page Gypsyville – the absence of official recognition of her own people. "I never saw owt about me own culture in there," says Amanda. "I've always used places like that. I've always read books. My favourite subject is history, but when we did history at school we never learnt owt about us, so now that I've learnt about that history, looking at me family tree – I've got a real passion for it. It's not just 1066 (the date of the famous battle of Hastings) and all that stuff, it's something that's closer to me and because I am doing that - because of Gypsyville - I am able to pass that on. What they (the Gypsies) used to do for a living. It really engrossed me and I loved it and I wanted to share that. Because a lot of our stuff is hidden from public view. The story that I tell is called 'Gypsies under the bed'. Because under everybody's bed is something with history in, and with Gypsies and Travellers they keep everything, so you've got all the old photographs and documents that helps you to build up that history; and it's their family history."
Amanda created Gypsyville in 2014 (named after an area of Leeds now called Little London), not long after the death of her Dad, and the closed Facebook group now has 4,000 members from around the world. "I started by sharing my history on Facebook with just a couple of pictures and a couple of members and now I've got nearly four thousand members," says Amanda. "I started three years ago this October. My dad were adopted by his Granny when he was born," adding that it was a trip with a Gypsy friend and a child she was fostering that made her determined to create something that preserved family history – because it was a treasure that could so easily be lost to future generations.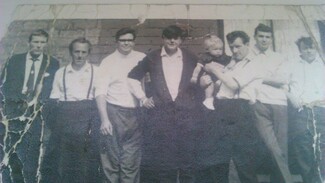 It reminds me of the old days, when we all used to be sat round the fire telling stories and that's how our history was passed on back then
I ask Amanda why she chose Facebook as the platform for Gypsyville. "I've sold things all me life and it's the best shop window out there. My Daughter in Law showed me how to use a computer, when I started I didn't even know how to switch it on. I don't think I even had an account, it didn't really interest me, but I realised that was the best shop window you would ever get as a platform for something like Gypsyville. Gypsies all have a phones and most of them are on Facebook. That's how we are all keeping in touch nowadays." For Amanda – Facebook can act as a virtual campfire, a meeting place for Gypsies that is under threat in the real world. You got the young kids who were on Facebook and they are on Gypsyville and they will recognise someone and Granny will be sat with them and they will recognise someone. Although they (the Granny) are not on Facebook themselves, they can still take part in the group with young-uns commenting for them. It reminds me of the old days, when we all used to be sat round the fire telling stories and that's how our history was passed on back then. There's very few sites nowadays and a lot of us have moved into houses and that history is not being passed on. I love it in the winter when we are all on Facebook, all talking about our history, and we've got people from new Zealand and America, people in bow tops with a little dongle (mobile internet connection) doing it. It means everybody can take part."
"I can put a picture on and we don't know what it is or where it is, or who it is," says Amanda. "So I put it on and ask 'can anybody name this?' Within an hour you will have 20 comments: 'It's so and so at so and so's'; 'he used to go here and then he would go there'. So those comments build up the picture. Everyone has their two-pennies worth. 'Oh I used to see him at Appleby'; 'Good horseman'; and so on. It can and has reunited families. It could be a photograph of a relative that they have never seen before. It's not just a history group, its families reunited. It started in Leeds but now it's gone worldwide."
To find Gyspyville just search for it on Facebook. To join the group, send a request. Gypsyville is predominantly for Gypsies and Travellers – including Irish and Scottish Travellers, but allows some academics and writers to join.
By Mike Doherty/TT
Main photo: Amanda Reed © Mike Doherty/TT
---