Equal and Empowered: Surrey's Romany pupils
18 October 2016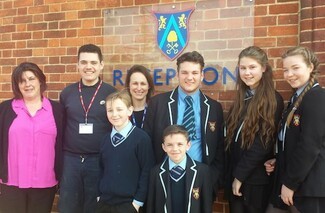 Steven Horne reports on Ash Manor School
From the outside, Ash Manor School in Surrey appears to be no different to any other secondary school around the country. However, within its walls it is unique. Reports suggest that in UK classrooms the typical pupil demographic is over 70% White British, whilst Gypsy, Roma and Traveller pupils make up just 0.4% of the pupil numbers, around one in ten of the pupils at Ash Manor School are Gypsy and Traveller. I went to find out more.
I spoke to two key members of staff who have taken the challenge of creating an environment that truly caters for all. Deputy Head Jo Luhman has been instrumental in developing an atmosphere of inclusion. This creates a situation where all pupils can embrace their culture and identity. Helping Jo in her mission is Key Worker Billie Jo Sines, herself a Traveller. Billie has been pivotal in developing relationships with parents and the pupils. Within the school there is a dedicated room where pupils can meet with Billie at any time.
The pupils are the success story of Ash Manor School and they are refusing to be left behind. Former pupils such as Jack Loveridge have seen the value of the education at Ash Manor School and taken it on to college, where Jack is rapidly excelling in his brick-laying studies. Jack will soon be joined by Darrel Ward; a year 11 pupil following the same route. Pupils such as Jack and Darrel are role models for the younger Travellers entering the school. Paddy Cash and Ethan Jones – both Year 7 pupils were my 'tour guides' for the day. Their enthusiasm for their school and genuine happiness was testament to the hope they could see in their peers and the confidence which the school has developed. "Everything's equal. Travellers are equal. And there's no racism," says Paddy. Darrel and Jack add that "there's a lot of understanding and there's always someone to talk to."
Lauren Stevens (Year 10) and Ruby Brazil (Year 9) are two pupils who are taking 'traditional' cultural expectations and turning them upside down. Their decision to succeed in education highlights not only a positive step in the right direction, but also makes a powerful statement for young Traveller women everywhere. Ash Manor is an excellent example of showing that when Travellers embrace education the culture is not lost, diluted or polluted, but is in fact strengthened and empowered. And whilst Deputy Head Jo Luhman acknowledges that they still have work to do, she can rest assured that what is being done, is being done well.
By Steven Horne
---