Britain Won: Tyson Fury is no longer world champ.
21 October 2016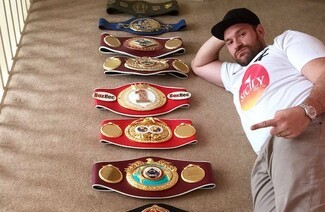 Tyson Fury has vacated his WBA and WBO world heavyweight championship belts and had his boxing license suspended by the BBBoC.
After two scheduled dates for his rematch with Wladimir Klitschko were called off, questions were raised as to what issue was affecting the undefeated 28 year old Fury. His trainer/uncle Peter Fury gave an interview talking about Tyson's struggles with mental illness and depression. Tyson himself talked about this and his trouble with drug abuse in a recent interview.
Fury achieved the unthinkable when he toppled Klitschko to become the unified heavyweight champion of the world in Dusseldorf last year. Going into the fight as a massive underdog, he came away victorious and walked away from Germany as the first Traveller heavyweight champion.
Tyson never got the recognition he deserved. In a country where even minor sporting achievements are widely celebrated, Fury received nothing but ire from the general public and the media. He had off-colour comments dredged up the day after he won the titles – the media were intent on destroying him.
Why?
The answer is a simple one: he's a Gypsy.
To say that the character assassination was because of what he said would be off the mark. He is not the first sportsman to say something stupid and indefensible. Last year, Premier League footballer Jamie Vardy was caught making racist comments in a casino. Burnley player Andre Gray used Twitter to say: "Is it me or are there gays everywhere? #Burn #Die #MakesMeSick".
What's the difference between these two athletes and Tyson Fury? Vardy and Gray aren't from the most hated ethnic group in Britain. For them, a PR-written apology and a couple of match bans will suffice. 
According to people who know Tyson, the level of hatred that has been unleashed on him though social media after the win has taken its toll on his mental wellbeing. There were always negative comments, but now they have been amplified ten-fold.
In a recent interview with Rolling Stone, Fury stated:
"It's been a witch hunt ever since I won that world title, because of my background, because of who I am and what I do – there's hatred for Travellers and Gypsies around the world."
"You don't have to take my word for it. Just go on my Twitter page and have a look. Scroll down for the last few months. Go online and read the articles. So-called British journalists. Read what they've got to say. No one can say a good thing. Whatever I do. If I won over 30 fights and knocked out everybody it would be no good. If it was the best math teacher in the world, it would be no good. If I was the United States president I'd be no good. I can't do nothing in my life that's any good to the general people because I'll never be accepted for who I am and what I am. You could go and ask 100 people about Travellers and they've all got nothing good to say about them. I don't know where it comes from. I do not know where it comes from."
A read though the comments on his social media feed is a sickening experience and not for the faint of heart. Not only is he being insulted for his ethnicity (the irony of being referred to as a "Pikey Bigot"), he is now being mocked for his mental health issues and depression.  I can't think of anyone else in the public eye that is dealing with such issues - battling depression; suicidal feelings and drug addiction get this kind of treatment. If it were anyone else there would be an outpouring of sympathy.
There have been messages of support from other boxers and sportsmen, wishing him a speedy recovery. But in the scheme of things, what difference does it make? The damage is done. Tyson Fury is no longer the world champion – the public and the media are now happy.
As a Romany Gypsy living in a country where prejudice against people from a G/R/T background is the last bastion of acceptable racism, progression to the point of real acceptance seems a long way away.
If there is a moral to this story, it's don't be a Gypsy with ideas above your station - the people of Great Britain wont like it.
For more info on Traveller mental health:
http://www.irishtimes.com/news/traveller-suicides-up-to-five-times-national-rate-1.832823
---