Hampshire - Poetry at the Gypsy 'Church in the Woods'
4 August 2023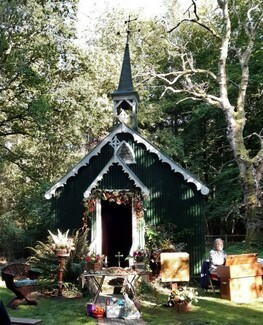 The award-winning Romani poet Raine Geoghegan will be performing her poetry at the Gypsy 'Church in the Woods' in Hampshire on Saturday, 19th August at 3pm.
"I'm very excited," Raine Geoghegan told the Travellers' Times. "It's an iconic place and much has been written about it over the years. It is so beautiful and when I first went there, I found myself crying as I sense the spirits of those who came before.
The church is on Bramdean Common and was built in 1883 by the Reverend Alfred Caesar Bishop, so that the commoners, charcoal burners and itinerant gypsies who seasonally occupied the common would be able to attend church. His wife, Louisa Frances Bishop, then left monies in her will for an endowment that would secure its upkeep.
"There'll be tea and cake at 3pm then my performance with some music and a Q & A afterwards," adds Raine. "All are welcome."
How to find the church:
Church in the Woods, Bramdean Common. Postcode: SO24 0JH
Point of Reference is start of the path from the road.
What3words: excellent.labels.section
Grid Reference: SU 63123 29162 or 6 figure SU631291
Or visit the Church's website for a Google map.
TT News
(Photograph of a Harvest Service at the Church in the Woods courtesy of Upper Itchen Benefice)
---