Gypsy Roma and Traveller Youth Voices Heard at Connected Communities Event.
9 February 2023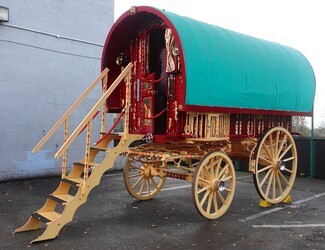 GRT young people took part in a research project and event, looking at what they need and what isn't being provided from youth organisations and institutions. Also on display was an award-winning traditional Gypsy Caravan, built by young people with Lottery funding.
The Traveller Movement has been commissioned by Youth Futures Foundation to deliver a series on Connected Communities events across the UK. On 23rd November, at the Beacon Centre in Salford, Reaching Out: Connected Communities was a celebration of the research project, Roads to Success for Gypsy, Roma and Traveller Youth. The research project was published by The Traveller Movement, (a charity that supports the UK GRT community and challenges racism) and Youth Futures Foundation, (a non-profit that improves employment opportunities for young people).

Running the event's talks and activities was Sally Carr MBE, a trustee of Youth Focus Northwest, (a charity which works with young people). Also in attendance was Christian Johnson from The Traveller Movement and Youth Advisors, Antonia Listrat, (a Romanian Gypsy) and Mikey Lawrence, (an Irish Traveller).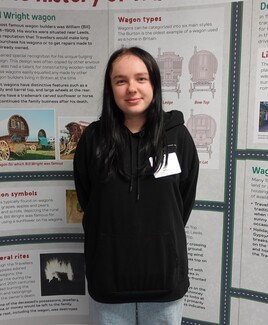 Sally explained that the research project was peer-led. Young GRT people were asked to draw on their lived experiences and express what they want and need from institutions and public, private and voluntary organisations in order to succeed. Sally described the need for the project as a "chip on our shoulder and a need to stand up for our rights".
Christian added that there was no consistent help and support for GRT youth across the country and that the few good providers weren't communicating with one another.
The research was collected and published, but it couldn't just sit there, said Sally. Today's event was the first of three Connected Community events, with London and Kent being on the list for future meetings. More events are also hopefully going to take place in 2023/4.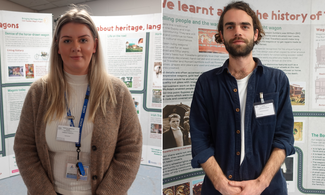 Local organisations were happy to attend and spend the day listening and talking to young people and learning about the research project. At the end of the day, everyone was also asked to make a personal pledge that would be posted on the Traveller Movement's social media platforms. Sally explained that in six months, the organisations will be contacted again to see how they're doing.
One of the pledgers was Candice Fawcett from CISN, (Community Social Inclusion Network). They work with young people in alternative provision, (those who can't go to regular school for a variety of reasons) and provide a community centre in Salford, The Hive.
Candice pledged to create a group for GRT young people at The Hive to give support in various areas of their lives, including filling in forms and the cost-of-living crisis. Another pledge was to "gain more understanding and awareness of Travellers, creating a respectful, friendly and non-judgemental environment where they can be themselves" said Candice. She added that it was most likely achievable in the next six months.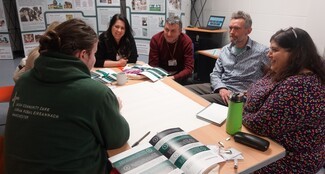 Antonia and Mikey were on hand to give speeches and facilitate discussions in small groups. Antonia explained that her role was to give approval on the research report before publication. Mikey, a UCLAN psychology student, spoke to other young people online about how they felt about higher education. He added that if he had any advice to organisations on how to work with GRT youth, it was, "to just be nice".
Outside the community centre, a beautiful traditional Bill Wright- style Gypsy caravan was on display. It was Lottery-funded and built from the ground up over three years by young members of Salford's Irish Traveller community and supported by Salford Children's Services and Salford Community Leisure, (who aim to improve the cultural wellbeing of Salfordians).
Dave Eccleston, who worked with the young people on the project, described a huge learning curve where they learnt from making many mistakes. A one point, the caravan was half built and had to be completely broken down and rebuilt.
The drive and determination of the young people to learn new skills pleasantly surprised Dave, who spoke warmly of two particular participants, Declan and Oscar. They dedicated themselves to learning chamfering, (wood carving of spindles), until they were perfect enough to be used in the final vardo.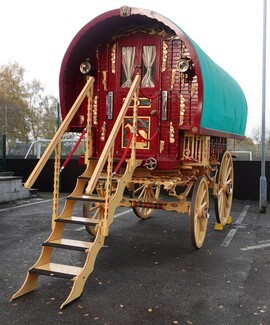 Dave explained that each young person was supposed to spend 6-12 weeks on the project. Some stayed on and were even given time out of school once a week to complete their work.
Their hard work became known amongst the Gypsy wagon building community and Dave now gets requests to bring the caravan to various events as a way to teach people about traditional GRT culture.
Shakira Ward, an Irish Traveller, explained that the soft furnishings inside the caravan were made by her and other girls on her site. She was taught how to use a sewing machine, "a good skill to learn that you can always rely on", says Shakira. She has already used those skills to make clothes for herself and intends on using them in the future when she is married with children.
Dave even got to Strasbourg to receive 3rd place in the Dosta! Congress Prize for Municipalities, on behalf of the young people and personally won the 2019 'Salford Pride Award' for his hard work.
It will be interesting to revisit the various organisations in six months to see how far they've come in terms of their pledges and their offerings for GRT young people.
By Gemma Lees/ TT News
(lead photo: Traditional Vardo © Gemma Lees)
---