Charity tribute for Jack Evans at Appleby 2022
28 June 2022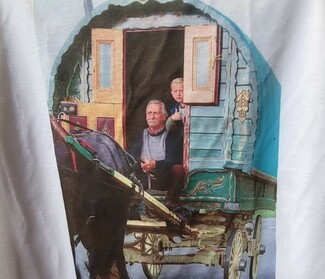 A stalwart of Appleby Horse Fair was honoured this year with a sponsored charity walk and bow-top procession.
Welsh traveller Jack Evans, who religiously attended every year, died two years ago of covid.
His friends and family wanted to pay tribute to his passing and at the same time raise money for Marie Curie Cancer Care UK.
It was delayed by the pandemic, which meant there was no Fair in 2020 and a delayed event in 2021.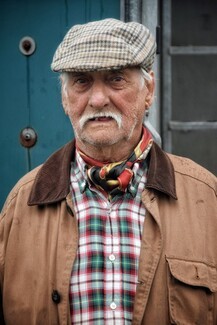 Sheenagha Lee-Farrah said: "You couldn't give an amount of how much Jack will be missed. You only have to mention the name.
"We've all grown up with Jack, he's done so much work. Led so many people into such a good world of horses."
Joint organiser, Sarah McFarling, from Newcastleton in the Scottish Borders, said: "Jack was a lovely man, held in great affection by all who knew him.
"He used to come to Appleby every year and like the rest of us mingled, sold and bought horses and had a great old time."
The procession on Wednesday, June 8, of around 50 marchers, was planned to start from Kirkby Stephen but in fact subsequently started from Jack's Bow top on Helm Road, about a mile down the road from Burrells (one of his regular stopping places). A memorial to Jack painted by Mick Davidson had been put on a tree at this location a few days previously with the help of Paul Race and "Stunner".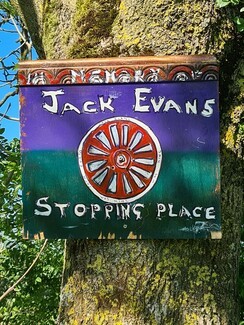 The traditional caravans, horses and carts and walkers included Jack's son Peter and daughter-in-law Donna.
Other friends of Jack included Sheenagha with her Shetland pony, Robin Hood, and miniature bow top, John Russell, and Paul Race.
Sarah added: "Sometimes Appleby Horse Fair and the travelling community get a bad name, and we wanted to show the other side and put smiles on people's faces in memory of Jack."
By Mike Glover for TT News
(All photos of the T-shirt printed for the charity tribute to Jack Evans courtesy of Sarah McFarling)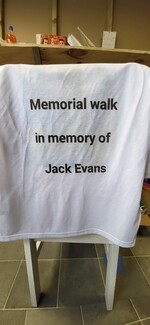 ---