REDWINGS HORSE WELFARE AWARDS BACK AT APPLEBY HORSE FAIR
31 May 2022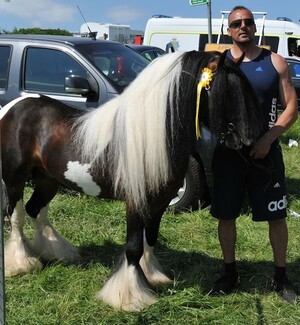 The 'Best at Appleby' welfare awards – organised by Redwings and supported by several National Equine Welfare Council members to celebrate examples of equine health, happiness, and horsemanship – are back at this year's Appleby Horse Fair.
The annual Gypsy and Traveller gathering begins on Thursday 9th June and runs until Monday 13th June in the Cumbrian town of Appleby-in-Westmorland. It is the largest in Britain and amongst the oldest in Europe.
Best at Appleby – sponsored by the Traditional Gypsy Cob Association - is now in its 7th year, having last taken place online in 2020 because of Covid. Since 2015 over 45 awards have been given out.
Nicola Berryman, one of Redwings' Welfare Veterinary Surgeons, who is attending, said: "We're excited to be bringing Best at Appleby back to the Fair, with the support of other members of the National Equine Welfare Council.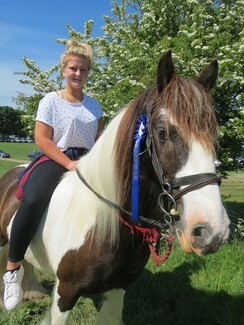 "Appleby Horse Fair has been in existence for at least 300 years, and probably longer, and is so important to the Gypsy and Traveller community who love horses.
"Best at Appleby is a unique way of breaking down some of those barriers that sometimes exist between the Gypsy and Traveller and vet communities, allowing vets to get to know horse owners who wouldn't ordinarily speak with us, and giving owners the chance to ask advice that will benefit their horses.
"We were overwhelmed by the number of people sharing their horses in the online show in 2020 and have had such a great response to the awards in previous years, so it'll be good to see some new and familiar faces this year, both horses and human!
"Several previous winners have won multiple times for the excellent care and attention they give to ensure the happiness of their horses, and we've seen some promote horse welfare alongside the vets at the Fair."
Around 10,000 Gypsies and Travellers attend the Fair, as well as around 30,000 other visitors, with Sunday being the traditional main visitors' day.
Nicola said: "We have three vets attending from Redwings as part of a six vet team embedded within the RSPCA operations who will all be keeping an eye out for the very healthiest of horses and best
horsemanship, and an engagement team who will be based at Salt Tip Corner who will be giving out rosettes to those who impress us during the Fair."
Each vet will give out awards between Thursday and Saturday/Sunday (weather dependant) – and will select a winner, a runner up, and two junior awards for the horses of young equestrians under 16. There will also be special categories for Best Stepping Cob, Best Trotter, Best in Harness and Best Hoof Health. On the final day, a Vet's Champion will be chosen by the vets and a People's Champion will be decided from social media engagement. Please comment, like and follow to get involved and promote horse welfare at the Fair: www.facebook.com/happyhealthyhorses
All winners will be offered the chance to have their horse microchipped and passported for free, if they are not already. They will all receive a mini lick courtesy of Horslyx.
Redwings are amongst eight welfare charities taking on various roles at the Fair - Redwings staff will also be assisting with any sick or injured horses and supporting the RSPCA with protecting the welfare of all animals over the five days. Blue Cross, Bransby Horses, British Horse Society, The Donkey Sanctuary, Oak Tree Animals and World Horse Welfare will all also be in attendance.
As a charity 100% funded by donations, it is thanks to the generosity of our supporters that Redwings is able to do our important work to promote the welfare of horses, ponies, donkeys and mules. 
If you'd like to make a donation please call 01508 505246 or visit www.redwings.org.uk/donate.
TT News/Redwings press release
(Main picture: Sexy Legs, Overall Winner 2016 owned by Mr James Loveridge)
---