Pray for the Ukrainian Roma
28 February 2022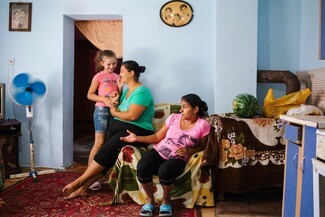 Exclusive interview with the European Roma Rights Centre
Find out how to donate money to help Ukrainian Roma
Ukrainian Roma have been caught up in the Russian invasion of Ukraine and the resulting refugee crisis as some Roma men flock to join the Ukrainian military defence, some are conscripted and have no choice, and many Roma women and children are forced to flee the fighting, splitting Roma families apart, say Romani campaigners.
The massive Russian land, sea and air invasion of Ukraine started five days ago, in the early hours of Thursday morning, 24TH February, and was ordered by Russian President Vladimir Putin. However, the invasion, which has attracted fierce and consistent opposition from around the world, appears to have stalled in the face of Ukrainian resistance from the vastly outnumbered and outgunned Ukrainian defence forces under the strong leadership of popular Ukrainian President Volodymyr Zelensky.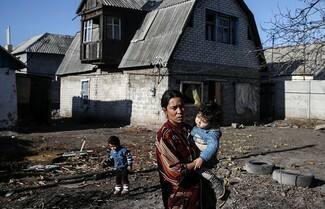 Meanwhile, Russian bombs and rockets have been falling on Ukrainian cities and towns prompting a refugee crisis as over a half a million men, women and children flee to the borders of the country to escape the war.
The Ukrainian Government has now ordered all men to stay in the country and to await conscription into the Ukranian defence. Many Ukrainian military reservists – including Roma - have also been called up to take part in the war.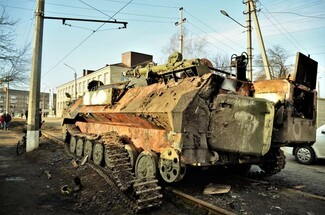 Despite Ukraine's dark recent history of Roma persecution, reports are coming in of some Roma men volunteering to join the Ukrainian army to fight the Russians. The Travellers' Times has seen publicly available pictures on social media of Roma men in Ukrainian military uniform proudly holding automatic rifles, ready to fight for their country against the Russian invasion.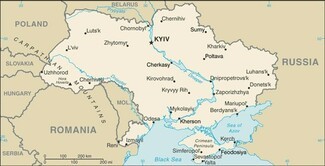 Speaking to Sweden-based Radio Romano, UK based Ukrainian Roma Victor Chovka said that there are many Roma who want to go to war. "This is the place we were born, in the Ukraine," he added. Victor Chovka is set to return to Ukraine to fight the Russian invaders, he said.
The Travellers' Times spoke to a Welsh Romany artisan who is in touch with a few Ukrainian Roma friends and who spoke to us on conditions of anonymity.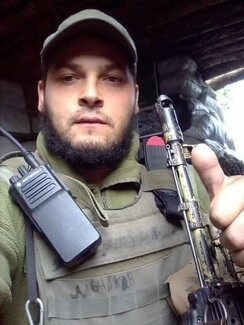 "My young Roma male friend is fighting and decided to defend his country before conscription came in. It is a fact that Roma are defending their country," they said
"Several may have volunteered but to be honest any male aged 18 - 60 has been conscripted to fight in the Ukrainian army," they added.
"Even those trying to get to either other parts of the country or other countries with their families they have been taken to fight. One of my Ukrainian friends is a female but her younger brother and fiancé have been conscripted - her and her mother and possibly a few other family members have managed to get close to the west of the country towards the border, but are also trying to help females get into Poland through the network of friends they have in Europe."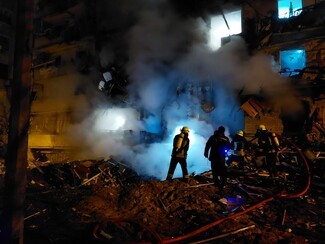 "A Slovakian friend who lives in Czech has taken in refugees from Ukraine. My young Roma male friend is fighting and decided to defend his country before conscription came in," she told us.
"They have asked people to help by donating money to organisations that are helping the military and civilians. They have also asked people to share everything they can about what is going on in Ukraine. They would like more help from NATO (the USA backed Western military alliance) and they want the Swift banking system closed to Russia and tougher sanctions."
"My female friend is also calling out for donations to ARCA, which is the Youth Agency for the Advocacy of Roma Culture."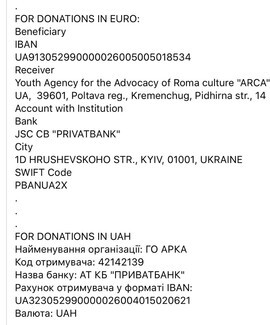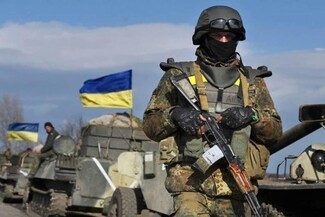 Myroslav Horvat, a Romani activist in Ukraine, has also told Radio Romano that "Romani people are in shock, there is a lot of stress here because it's quite complicated, for example, just to buy groceries," adding that most Romani people are concerned about how they will make a living because their jobs ended when the war began. 
Horvat is sharing photographs of the Romani soldiers in the Ukrainian Army on his Facebook profile, which features the flag of Ukraine. Julian Kondur, another Romani activist with the Chiricli organization in Ukraine, describes the situation of Romani people in Kyiv as follows:  "We are all doing our best to stay safe, to be with our families, and to be prepared to defend our homes."
"We are relying on our army and we will defend our country," Kondur said.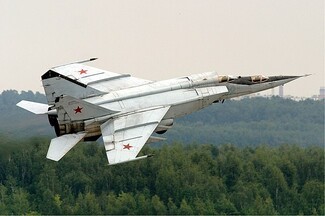 Reports are also coming in that Ukrainian Roma men in have "confiscated" a Russian tank as part of the defence of their country. The largest Ukrainian news agency UNIAN, referring to local sources, published a report that Romani fighters near Kakhovka in the Kherson region managed to seize a tank from the Russian occupiers.
"In addition to the heroic work of the armed forces, civilians, including the Roma, have come to the rescue. They confiscated a tank from the Russian attackers tonight, February 27. It happened near Kakhovka, in the Kherson region," reports UNIAN.
WATCH: A video that appears to show Roma men "confiscating" a Russian tank:
There are also reports - verified by the TT - that Ukrainian Roma men in Oblast are supporting the defence of their country by helping to fill sand bags so they can be used as barricades to stop the Russian invasion.
WATCH VIDEO: Roma men helping to fill sandbags:
Many UK Romany Gypsies and Travellers are concerned about supporting the Ukrainian Government against the Russian invasion because of Ukraine's dark recent history of far-right pogroms against Roma settlements. One of Russian President Vladimir Putin's reasons for invading Ukraine is to "de-Natzify" its government, who Putin claims is controlled by the far-right.
The Travellers' Times approached the European Roma Rights Centre (ERRC) for comment. ERRC spokesperson Jonathan Lee gave us this exclusive interview:
EXCLUSIVE INTERVIEW WITH THE ERRC'S JONATHAN LEE
What do you know about the situation of the Ukrainian Roma before and during the Russian invasion?
From Romani activists I've spoken to in Ukraine, people are very united right now like never before – Roma and non-Roma – right across the country. There are Roma fighting in the volunteer forces, there are Roma in the army, who are quite visible on social media supporting their country against the invasion. We've seen no sign of persecution of Romani communities by ethnic Ukrainians since the war began, nor have there been reports of Roma who wish to escape the violence being denied at border crossings. Ukrainians – Roma and non-Roma alike – are freely crossing into neighbouring countries for safety. This is good – as a large problem we have been trying to remedy for many years in Ukraine is statelessness amongst Romani communities. By this I mean that many Romani people, for various reasons, do not have identity documents which give them access to basic services as well as allowing them to leave the country. We have been training Roma as paralegals to get these documents for their own communities for years – and directly providing IDs for others. We will of course be monitoring the situation to make sure that Roma who do not have documentation are able to escape war as refugees, and will remind governments and UN agencies of their obligations in this respect.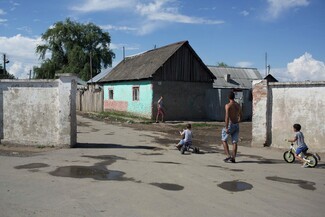 Many Roma are I know choosing to remain – they want to stay in their homes, or the men in their family are unable to leave because of military conscription – these people are already faced with running out of food, running out of medical supplies, and it's only going to get worse the longer this goes on. There are several groups of local Romani activists who have set up international bank accounts to receive donations if anyone wants to donate to help people who are remaining and need support to survive. They are using these funds to support their entire local community – Roma and non-Roma – who are in need. For example: https://www.facebook.com/YNGO.ARCA/photos/a.847809315568796/1656040561412330.
Have things got any better for Ukrainian Roma since Zelensky became President?
The problems Roma face in Ukraine are so deep rooted and systemic that it's unlikely a President elected in May 2019 would have achieved much in improving their situation, even if the Russian conflict wasn't ongoing. Roma are so marginalised in political and civil life that I really don't think that it's been something that is considered in the policies of Zelensky's presidency.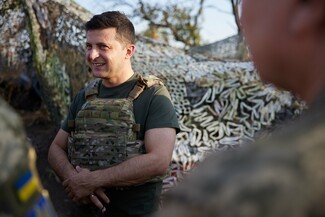 Is the Ukraine a far-right country as Russian President Putin claims?
The far-right attacks on Romani camps of 2018 and 2019 were not anomalies – we have been monitoring pogroms and far-right violence against Roma for over two decades in Ukraine. There was a pogrom in the village of Loshchinvska in Odessa in 2016, there are similar events going back to at least 2002, and certainly long before that historically. In recent years, there was an attack on a Romani camp in Kyiv in 2020 by assailants who burned down tents, attacked people, and threatened to rape a Romani woman. Just last year in October a far-right mob marched on a Romani neighbourhood in a town near Kyiv and had to be held back by a line of police officers to stop them attacking Romani homes.
There is certainly an armed, powerful far-right presence in Ukraine who threaten Romani lives. But they are not in government – they are very vocal, very visible – but still a minority of people. The description of Ukraine's government as being a Nazi government is completely inaccurate. The far-right pose a threat to Romani people across Europe, not just in Ukraine.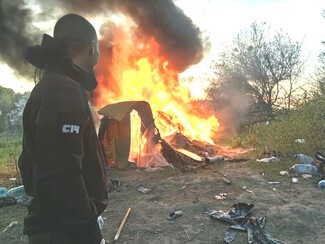 When I was there in 2018 just after some of the attacks on Romani communities, I spoke to representatives of police forces in different regions. They believed at that time that the far-right paramilitary groups were being funded or otherwise supported indirectly by Russia. Several people said this outright or suggested this to me. I saw no direct evidence of this, of course – and told them that it doesn't really matter if Russia are supporting the far-right in Ukraine, as it is their problem that Ukrainian citizens are burning down the homes of other Ukrainian citizens, just because of their ethnicity. In light of the current invasion, ostensibly on the pretext of the "denazification of Ukraine" it is interesting to consider this possibility however.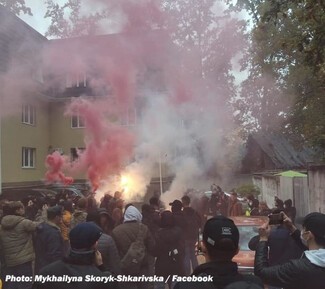 In any case, the wave of violence of 2018 and 2019 against Romani communities has not been repeated on the same scale. The government of Ukraine has taken some actions – the creation of mediation groups for example – in the wake of these attacks. But in terms of legal consequences, none of those responsible, nor police officers who in cases allowed attacks to happen, have ever faced justice. That's not really surprising or unique to Ukraine though – more than half of the ERRC's legal cases concern police misconduct towards Romani people. I can't think of any in past decade where the officers themselves faced direct consequences for their actions from the justice system.
How much do we know about the Russian treatment of Roma in Russia and also in the Russian controlled Ukraine separatist/rebel areas?
Almost all human rights organisations left Russia some time ago – and the ERRC has not worked there for many years as our effectiveness as a legal organisation is limited in a country without a normal rule of law. Russia has a large Romani population, probably well over a million people. We hear of pogroms in rural areas of Romani communities from time to time, much the same as we have seen in Ukraine and indeed used to see in Romania and other countries some years ago. Antigypsyism is a European problem, it is not necessarily 'worse' in one country or another, but is kept in check in countries that have stronger democratic institutions and a strong rule of law to defend minorities from discrimination. Unfortunately, neither Russia or Ukraine fit this description at the moment.
President Zelensky has been approached by the Travellers' Times for comment.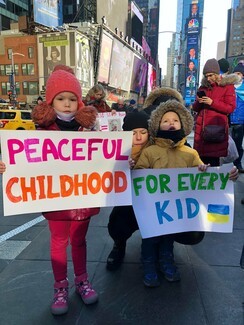 By Mike Doherty for TT News
(Lead picture: Pray for the Ukrainian Roma: Nadiya, 45, and family from Uzhgorod. Picture taken in 2018 before the Russian invasion © Alex Sturrock)
Fundraiser
Help the Roma access humanitarian aid in Ukraine
The war that the Russian Federation has waged against the sovereign Republic of Ukraine has already cost numerous lives and displaced hundreds of thousands of people. Among the displaced Ukrainians are the Roma, who - despite being loyal citizens of the country - are facing particular difficulties at the moment.
This funding campaign is coordinated by ERGO Network and international Roma activists in cooperation with Ukrainian Roma organizations Roma Women Fund Chiricli.
The purpose of this campaign is to collect the funds to ensure that the Roma community has the same access to humanitarian support as the rest of the population.
In particular, the funds are covered for the following actions:
- To help the Roma to access organisations giving out humanitarian aid. This can be helpful with providing transportation, food, medications, accommodation, sanitation kits and other supplies to the people in need.
- To help the Roma women, children, and the elderly seeking relocation reach the borders of Ukraine with accepting countries. At the moment many people are stuck because they have no access to transport.
- To ensure transport and accommodation for displaced Roma individuals, who are not accepted in volunteer initiatives due to discrimination.
---