Arts Council of Wales funds exciting Gypsy Maker 5 Project
12 January 2022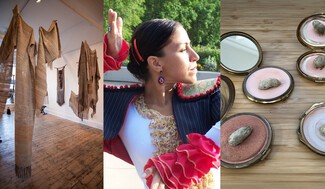 The Romani Cultural and Arts Company is pleased to announce our new funding award from the Arts Council of Wales to continue the trailblazing Gypsy Maker project in Wales.
'Gypsy Maker 5' is a development of the highly successful 'Gypsy Maker' project . As with previous editions, Gypsy Maker 5 will commission Gypsy, Roma and Traveller (GRT) artists to produce new work to add to the growing bank of Gypsy, Roma & Traveller art, knowledge and culture in Wales and beyond.
Isaac Blake; Director of the Romani Cultural & Arts Company, said "We are so proud to secure further funding from the Arts Council of Wales to continue our ground-breaking work with GRT artists. This project will strengthen the role of Gypsies, Roma and Travellers on the arts scene in Wales, the UK and beyond."
Gypsy Maker 5 offers a key development from previous projects by including performance in our range of arts disciplines this year. This reflects the increasing enthusiasm expressed over the course of the Gypsy Maker initiative from community members and partners to experience more GRT artistic practice in all its forms. 
Gypsy Maker 5 will provide a platform for three GRT artists, Imogen Bright Moon, Corrina Eastwood and Rosamaria Kostic Cisneros, to develop their art practice, resulting in new bodies of work that showcase their professional and artistic development as facilitated by the Gypsy Maker project. Each artist employs a variety of media to offer unique and exciting propositions within the contemporary art field and GRT cultural discourse. Daniel Baker will be Artist Mentor and Audience Development Officer.
The Gypsy Maker 5 exhibitions will tour to the wider public during 2022 accompanied by open-access workshops and forums to allow the public to gain deeper understanding of the processes and themes that underpin the artworks and the Gypsy Maker initiative.

Exhibition launches will be open to the public with the RCAC supporting venues with any bilingual and accessibility issues to secure the widest audience possible. There will be a talk at each of the three tour venues to launch the exhibitions.
There remains a regrettable shortage of knowledge about this exciting community. The further showcasing of its artistic heritage and current cultural innovation will benefit greatly both members of GRT communities and the wider population.
Romani Cultural & Arts Company press release/TT News
(Image: Artworks left to right © Imogen Bright Moon, Rosamaria Kostic Cisneros and Corrina Eastwood)
---