'My father says he would be better off dead'– Romany grandfather Albert Douglas STILL trapped in Dubai 'hellhole'
8 September 2021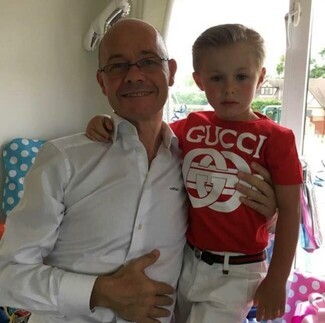 Still falsely incarcerated in a Dubai for a crime he didn't commit, tortured and beaten by prison guards, denied his medication or painkillers and with a serious arm injury that he is only just receiving treatment for after an appalling wait of six months, Romany Gypsy Albert Douglas's mental and physical health is fast deteriorating.
Businessman Albert Douglas, who is a grandfather of five, has so afar been imprisoned for three years in Dubai and the United Arab Emirates after holding out against torture and refusing to confess to a crime he didn't commit, say campaigners.
"Unfortunately, my father regularly says at this point he would be better off dead," says his son Wolfgang Douglas, who is tirelessly campaigning for his release.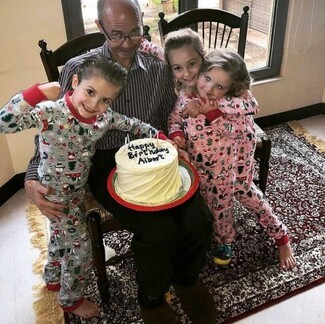 But Albert's family are not giving up and now their hopes have risen a bit because Albert has finally been taken to hospital for dislocated shoulder – after an astonishing six months of being ignored by prison guards as he lay in agony with NO pain-killers.
Speaking to the Travellers' Times today, Wolfgang said that the move was because of 'bombarding' the Government and Dubai authorities "24/7" since Albert has been detained.
"The doctors are going to have to break my father's shoulder to re-set the dislocated joint," said Wolfgang. "Because he hasn't been treated my father's shoulder has fused and set and he is now disfigured.
Watch! Interview with Wolfgang Douglas:
"This should be the wake-up call to the Foreign Office and the Government," added Wolfgang. "They recently successfully brought thousands of British citizens home from Afghanistan whose lives where at risk. My 70-year-old father's life is also at extreme risk from a regime that denies him justice and basic human rights.
Will the UK Government put pressure on Dubai and bring Albert home, or will he be coming home in a coffin? They need to get Albert home or they will have blood on their hands.
I am also asking, no pleading, with everyone within our community, including our famous sportspeople, to join and support the campaign to bring Albert home."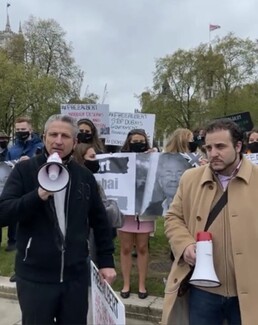 Albert's wife Naomi even wrote to the ruler of Dubai, Sheikh Mohammed Al Maktoum begging for his help to free her husband. "I ask and I beg you as the ruler of Dubai, as a grandfather, father and a husband yourself, please will you look to see if there is any possible means in pardoning, releasing or deporting my husband in this one off case of extraordinary circumstance," wrote Naomi Douglas in her heart-felt plea.
Albert Douglas was arrested and all his assets seized after his son's separate flooring business in Dubai failed. He was charged and imprisoned for three years following torture and deprivation of food, water and sleep. Albert Douglas, who supporters say is 'the nicest gentleman you ever meet', was also deprived of crucial medication for his heart condition. His son Wolfgang Douglas had to flee Dubai after he became enmeshed in their "corrupt" justice system where a single bouncing cheque is an automatic three-year prison sentence.
WATCH! Andy Slaughter, MP for Hammersmith, criticises the Government over Free Albert campaign:
Albert Douglas at first stayed behind and tried to defend himself, because he had committed no crime, he says, but then had to flee and was caught by the United Arab Emirates authorities at the border. Initially the Dubai authorities also confiscated Wolfgang's brother's passport leaving him destitute and alone, but under pressure finally allowed the young man to go back to his family in the UK.
Radha Stirling, Human Rights lawyer and CEO of Detained in Dubai is supporting Albert's family. "Their businesses have been looted and their bank accounts emptied," said Radha Stirling. "This is all of Albert's hard work in Dubai over the last decades lost to predatorial and false allegations against him. The courts refused to admit bundles of evidence that would prove Albert's innocence. No forensics were undertaken on the cheques he was accused of bouncing and no investigation was undertaken."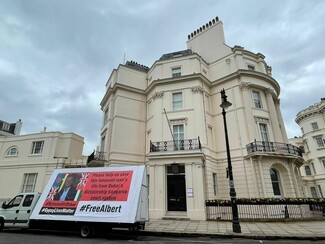 UPDATE: Wolfgang's MP Felicity Buchan (Member of Parliament for Kensington) has finally managed to bag an interview with the United Arab Emirates Ambassador to the UK so the family can raise Albert's case. They are due to meet next week.
PLEASE take some time to go to a special website set up for the #Free Albert campaign and see how you can help to spread the word and bring Albert home to his wife and family. VISIT 
Mike Doherty/Travellers' Times News
(All pics courtesy of Wolfgang Douglas except Radha Stirling (c) Rahda Stirling)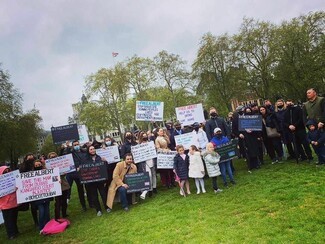 ---