Drive 2 Survive campaign on its way to Manchester to protest the new anti-Traveller law
28 September 2021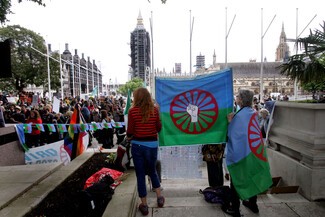 Campaigners take the Drive 2 Survive roadshow to the Conservative Party conference in Manchester for a week of action including a rally, a horse-drive through the city and a negotiated stopping Traveller site for campaigners to pull on to
With just under one week to go until the Tory party conference in Manchester, Drive 2 Survive campaigners have announced plans to set up a temporary Gypsy site within walking distance of the Conservative Party Conference and fully participate in the People's Assembly National Week of Action against the Tory Party.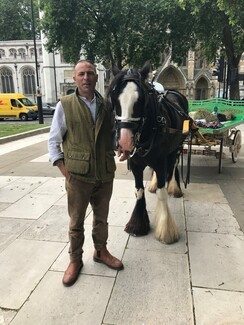 Gypsy, Roma and Traveller campaigners will kick off proceeding with a National Drive 2 Survive Rally against the Police Bill in Manchester's Piccadilly Gardens at 1pm on Saturday 2nd October. On the 3rd of October they will participate as a horse-drawn and walking block in the National People's Assembly demonstration against the Tory Party Conference. They will assemble with horses, carts and on foot at a temporary Gypsy site set up at Manchester's disused Central Retail Park on Great Ancoats Street. Full address details below.
Featuring all the colour of Europe's biggest horse fair Appleby Fair, the temporary site is being set up to show the people of Manchester and conference delegates a sample of the cultures that will be outlawed if Priti Patel's Police Bill becomes law. From Scotland to Sussex, Gypsies and Travellers will be making their way to Manchester to show their strength of feeling against the Police Bill.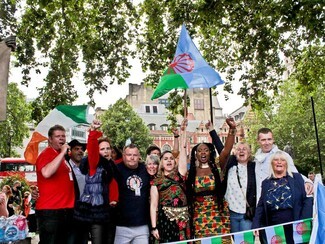 "I want show the Tory Party our beauty and our rich history, that we have a voice, and we will use it," says Romany woman and Drive to Survive Co Chair Sherrie Smith. "We are not going to remain silent. The Tories count on the fact we won't vote, and that we won't challenge them together. But we are strong because we are Europe's largest minority."
With space for up to 30 living vehicles the site will feature representatives from the Romany Gypsy, Irish Traveller, Scottish Traveller and New Traveller cultures whose nomadic heritage will be outlawed. Beautiful old Romany vardos will sit alongside beautifully crafted New Traveller living vehicles.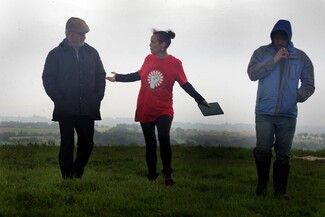 "New Travellers, both in vehicles and horse-drawn will have their way of life destroyed or severely curtailed by the new anti-Traveller law." says Terena from New Traveller campaign group No Fixed Abode Travellers. "This is why we will be travelling to the D2S Manchester camp and will be stopping in solidarity with our Romani Gypsy and Traveller comrades who have centuries of heritage threatened by the racist police bill," said Terena from New Traveller campaign group No Fixed Abode Travellers.
"I have fully supported Drive to Survive from the outset." says Catherine Gould. "I joined the team as I believe in everything it stands for. For the first time perhaps we have come together , Gypsies , Roma and Travellers , unified in our determination to highlight and prevent the devastating impact this Bill will have on nomadism. As a 'New Age Traveller ' I am extremely proud and thankful to be a part of this."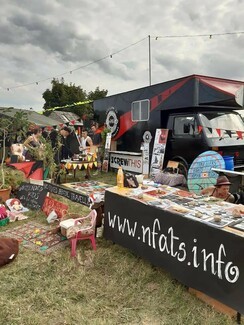 With the law currently being debated in the Lords time is of the essence to organise a sustained campaign of non-compliance if it becomes law when it returns to the Commons.
"As imminent democratic players, emerging from centuries of persecution, I think it's time that Romani and Traveller people took control of our own narratives. For too long this has been a matter of unwilling proxy - and we have been consistently failed. So I'm coming to Manchester to do three things: to speak, to be seen, and - most importantly of all - to finally be heard." Says Romany Man and Drive 2 Survive activist Mattey Mitchell from Sussex.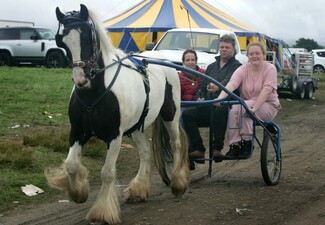 There will be two Drive 2 Survive events within the overall festival of resistance against the Tory Party, say campaigners. They are:
Oct 2nd, 1pm
National Drive 2 Survive Rally at the Tory Party Conference
Piccadilly Gardens, Manchester, M1 1RN
Oct 3rd, 11am
Drive 2 Survive Horse Drive
Assemble: Central Retail Park, M4 6DJ
If you would like to stop on the site from October 1st to October 6th please contact Drive 2 Survive Co-chair Jake Bowers on bowersjake02@gmail.com or 07966 786242 with details of your vehicles and participants.
Supporters who cannot make it to `Manchester can donate to the Drive 2 Survive Crowdfunder here: https://www.gofundme.com/f/drive2survive
TT News/Drive 2 Survive press release
(Lead picture: D2S London rally July 7th, 2021 (c) Huw Powell)
---