Travellers' Times set to go independent and GRT led after "amazing" Lottery funding award
18 August 2021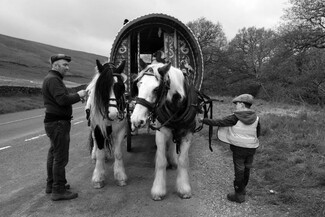 The National Lottery has awarded over a million pounds to the Travellers' Times so that it can increase its video/film content and also recruit paid trainees, with the aim of becoming a completely independent Gypsy, Roma and Traveller led organisation.
Part of the funding award for the new four-year 'TT Vision' project will be used to recruit and train and provide work placements for Gypsy, Roma and Traveller people, who will be paid the living wage for a minimum of 12 months, whilst they learn and gain experience.
The Travellers' Times, the UK's only national GRT media platform, is currently managed by Rural Media, who have been working with Gypsy, Roma and Traveller communities for over 30 years.
Mike Doherty, Travellers' Times Editor, said that the TT Vision training course would be an amazing opportunity for Gypsy, Roma and Traveller people.
"TT Vision is an amazing project and I am looking forward to working with our new trainees over the next four years and passing on to them my professional skills and experience," said Mike Doherty.
"TT Vision is also a unique and special opportunity for any Gypsy, Roma and Traveller people wanting to break into a career in media, communications, campaigns and/or charity work and will be a massive kick-start to their CV after successful completion of the training and placement," he added.
Rural Media will remain as project managers for the four-year TT Vision project before handing over the reins to the new independent Gypsy Roma Traveller led, independent Travellers' Times.
An ambitious and bold project, TT Vision will invest in practical skills that will support community development, social mobility and place the tools for GRT representation firmly in the hands of Gypsies, Roma and Travellers themselves.
Lisa Smith, Travellers' Times Youth Editor, said that TT Vision would focus on empowerment.
"We are so pleased to be able to expand the work of the Travellers' Times," said Lisa Smith.
"With a strong focus on community leadership and empowerment, this project will drive forward our commitment to creating space for counter-narratives to the dominant mainstream media, a place where Gypsies and Travellers have a platform to tell their side of the story."
Media professionals, educators and business leaders will provide training for the Travellers' Times trainees in media and communications, video production, management and finance, marketing and distribution, public relations, leadership and life skills.
Following a six-month training and mentoring course from Travellers' Times and Rural Media staff, trainees will then be given a six-month work placement at a charity or media organisation – again paid at the living wage.
"We are, of course, hoping that some of the trainees will remain with the Travellers' Times as staff as we trail-break a new exciting journey as an independent Gypsy and Traveller led organisation at the end of the four-year TT Vision project," said Mike Doherty. "The Travellers' Times editorial team has been predominantly Gypsy Roma Traveller for a number of years, so becoming an independent GRT led organisation is the next obvious step for us."
In the final year of the project, some of the Gypsy, Roma and Traveller trainees will be recruited to shadow Rural Media and Travellers' Times staff to learn skills vital to the Travellers' Times survival as an independent organisation. These skills will include journalism, film making, fund-raising, marketing and commercial skills and project management. Again, this will be paid work.
Julie Colman, Travellers Times' Project Manager said that TT Vision was ambitious.
"TT Vision is our most ambitious project to date," said Julie Colman. "We want to 'break the glass ceiling' for Gypsies Roma and Travellers wanting to become media-makers and creators and, by the end of the four-year project, see the Travellers Times' supported into independence as a Gypsy, Roma and Traveller-led organisation as well as building an incredible network and talent pool of Gypsy Roma and Traveller people"
Recruitment of the first cohort of TT Vision trainees will start in Spring 2022. Further details on the training and placements and full details on how to apply will be released soon. Watch this space!
TT News
(Stock picture (c) Natasha Quarmby/Fields of Light)
---