Rosie the amazing coloured pony raises 10k for NHS!
28 May 2021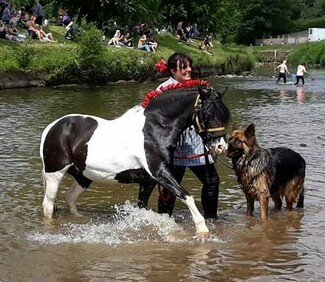 Rosie, a 21-year-old Dartmoor and Shetland Pony cross from Lincolnshire, has raised nearly ten thousand pounds for the NHS – and this was just one chapter of "her amazing life," says owner Sheenagha Lee-Farrah.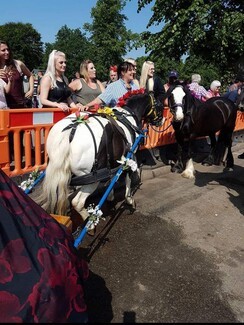 "Rosie has had an amazing life," Sheenagha tells the Travellers' Times, adding that Rosie has been a stunt pony, taken part in proms and weddings, historical re-enactments, and won best pony at Appleby Fair a few years ago.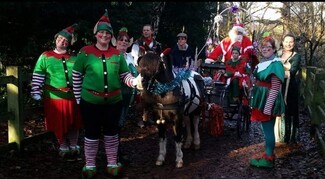 In May last year, Rosie completed an eight-day 81-mile sponsored drive along the Lindsey Trail through the Lincolnshire Wolds and raised a stunning £9,960 for the NHS.
Sheenagha tells the TT what prompted her and Rosie to do the sponsored drive: "We were taking part in the Thursday night clap for the NHS during the covid pandemic," says Sheenagha, adding that they would clap from their stud in Lincolnshire.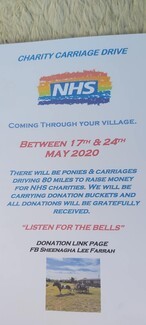 "Anyway, I thought no-one would hear me clapping in the middle of a 19-acre field, so I decided to get some flyers done and tell a few people I was going to do the drive and raise money on my way with a collection box," says Sheenagha.
The plan to raise money with a sponsored drive snowballed and friends set up Go-Fund Me online fundraiser account – and the donations started to flood in.
Finally, the start date of the drive dawned on the Saturday of last year's May bank holiday weekend and Rosie – and Sheenagha - were ready to set off from their first camp on the Lindsey Trail. Sheenagha's friend Anita Shucksmith followed behind in her car as support and to log the mileage.
"With everywhere locked down, the roads were quiet apart from farm vehicles and delivery vans," says Sheenagha. "The weather was amazing and people were painting signs of support for the NHS on their houses and windows, so I had myself an amazing insight to the appreciation of the NHS and the effect of this awful pandemic.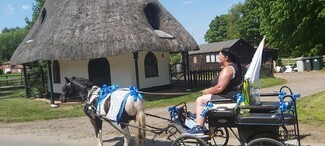 Whenever they camped for the evening, Sheenagha and Anita would do health and safety checks on the carriage and on Rosie, plan the next day's route, and then would drive to local villages they were planning to pass through the next day and put up posters and flyers announcing that they were coming. The response was amazing says Sheenagha.
"People were hanging over gates and running down the road putting money in the collection buckets hanging off Rosie' carriage, and then going online and finding the Go-fund-Me fundraiser," she says.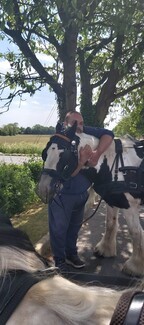 Rosie is no stranger to being the centre of attention. Before the lockdown Rosie was part of a historical re-enactment group called LEGENDS.
Every August, from 2013 until 2018, Rosie took part on the LEGENDS ten-day re-enactment of the story of Robin Hood. The group would meet up in Sherwood Forest, Nottinghamshire, and live there for ten days in their costumes and also put on shows which were attended by thousands of cheering spectators. Rosie's main role in the re-enactment was pulling the Sheriff of Nottingham's chariot, which was built for her by the group using an old car axle and a child's trampoline.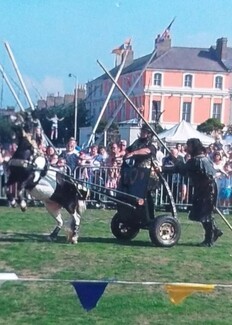 "They welded the chariot shafts and other strength-stayers whilst Rosie was stood in the shafts at nine pm one evening, and to all my co-stars amazement Rosie didn't move one hoof as the sparks flew about her in the darkness," says Sheenagha.
Rosie is also a familiar sight at Appleby, where she is decorated with bouquets and garlands of flowers and she often gives a ride to young people – like this young lad Zac!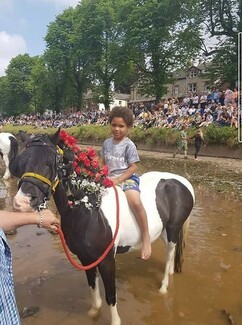 "Zac was delighted to meet Rosie a few years ago, especially when he was allowed to ride her into the River Eden!," Zac's auntie Casey says.
"Sheenagha was so kind to let my nephew ride her pony in the river. I couldn't thank her enough and I Can't wait to meet up this year and let my nephew ride Rosie again now they both bit older."
The Travellers' Times will be catching up with Rosie and Sheenagha as well at Appleby this year. See you in August!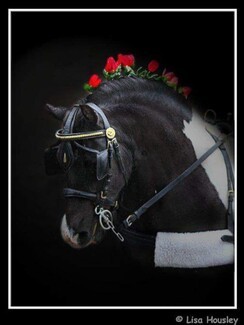 TT News
(Lead picture: Rosie and Sheenagha in the River Eden, Appleby Fair. Picture courtesy of Sheenagha)
---