Pray for young Maggie Joyce and donate your bone marrow say her mum and dad
18 May 2021
Watch the video: Margaret and Timmy Joyce of Redbridge Hollow in Oxford, talk to Romani journalist Jake Bowers about their daughter's battle against a serious illness that could lead to leukaemia, the support and prayers Maggie is getting – and why everyone should find out about how to donate bone marrow.
Jake Bowers talks to Margaret and Timmy Joyce as Redbridge Hollow turns out to raise awareness about Maggie's condition and bone marrow.
"I am the bone marrow donor for my daughter," says Margaret Joyce, adding that other children may not be so lucky. "So please donate your bone marrow. Save children's lives."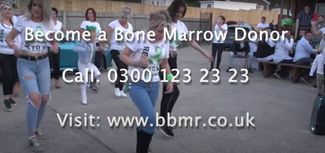 Maggie's operation and transplant is set for the 16th June. Please lets all pray for her.
---