Bring Albert Home from Dubai campaign gathers pace as Romany Gypsy supporters rally in London
17 May 2021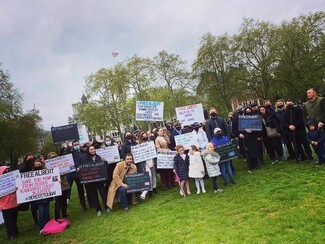 British Romany Gypsy businessman Albert Douglas imprisoned and tortured in United Arab Emirates prison system
Grandfather of five Albert Douglas is now sentenced to three years in prison in Dubai for a 'bounced cheque' he didn't write
'Gypsy Lives Matter!' – hundreds of supporters, including Romany Gypsy businessman Alfie Best, rally in support outside Parliament
Campaigners reach out to Tyson Fury for support
UK Government Foreign Office pressured into prison visit
NEW DEVELOPMENT - Dubai authorities now re-examining handwriting on cheque Albert says he didn't write
"I've never left anyone behind" – exclusive interview with human rights lawyer hero Radha Stirling who is spearheading campaign
Travellers' Times supports lobbying letter writing campaign to UK Foreign Secretary Dominic Raab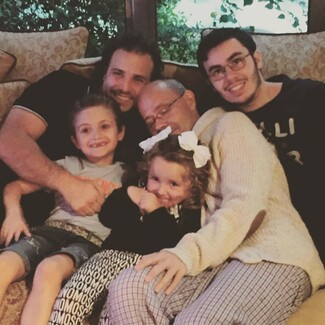 The campaign to bring Romany Gypsy and British citizen Albert Douglas home from a "hellhole" prison cell in Dubai is gathering pace after hundreds of supporters rallied outside Parliament last weekend. 
Businessman Albert Douglas, who is a grandfather of five, has been imprisoned for three years in Dubai after holding out against torture and refusing to confess to a crime he didn't commit, say campaigners.
Albert Douglas was arrested and all his assets seized after his son's separate flooring business in Dubai failed. He was charged and imprisoned for three years following torture and deprivation of food, water and sleep. Albert Douglas, who supporters say is 'the nicest gentleman you ever meet', was also deprived of crucial medication for his heart condition. His son Wolfgang Douglas had to flee Dubai after he became enmeshed in their "corrupt" justice system where a single bouncing cheque is an automatic three-year prison sentence. Albert Douglas at first stayed behind and tried to defend himself, because he had committed no crime, he says, but then had to flee and was caught by the United Arab Emirates authorities at the border.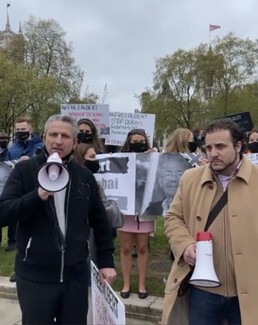 Speaking to the Travellers' Times, Wolfgang Douglas said the experience had opened his eyes to the "corrupt" legal system in Dubai and the wider United Arab Emirates.
"I was naïve," says Wolfgang Douglas. "OK, I knew that Saudi Arabia was a dangerous place, but Dubai and the wider United Arab Emirates has good PR and I fell for it and my dad was doing well there. Dubai touts itself as a good place to do business, and as a glamourous tourist destination, and also as a hub for big sporting events such as boxing and football; it says it is the Las Vegas of the Middle East. But it doesn't have a legal system. It has no human rights. They don't exist. And me and my father opened our businesses there in good faith."
Last weekend hundreds of campaigners rallied outside Parliament to demand that the UK Government act and bring Albert home. Prominent Romany Gypsy businessman Alfie Best was there and spoke at the rally.
WATCH A VIDEO OF THE FREE ALBERT RALLY OUTSIDE PARLIAMENT
Alfie Best called for the release of Albert, criticising the human rights violations and beatings, adding 'Gypsy Lives Matter'. The campaign is also being supported by celebrities and influencers like Claire Sweeney, Henry Simmons & Daisy O'Donnell.
Popular 'Absolutely Ascot' star Henry Simmons has also issued a call for Albert Douglas's release from a Dubai jail. "Albert Douglas, has been wrongfully imprisoned in an unfair justice System, where he's been beaten and subjected to countless human rights violations during his detention so far," he said in a message to supporters. "He needs your help to get home. Please everyone can we get this father/ grandfather back home where he belongs", Henry Simmons said.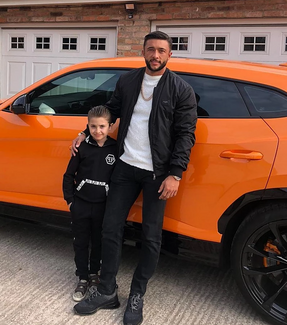 The Free Albert campaigners were also planning demonstrate outside the Dubai embassy, but panicked officials locked the embassy down, removing all identifying marks like the plaques from the walls and the flag from the flagpole, say campaigners.
Albert Douglas has now finally been given medication for his heart condition and has access to a mobile phone. In a heart-rending call to his family and legal team, released by 'hero' human rights lawyer Radha Stirling who is spearheading the campaign with Albert's family, Albert speaks about his ordeal.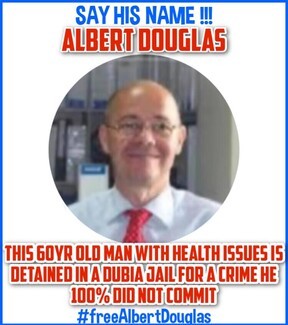 "You speak when you are spoken to but I needed my medicine so I spoke out and they beat me," says Albert Douglas, adding that he hasn't confessed because he is innocent. The three-year conviction is for a bounced cheque he says he didn't write. "If you don't confess, they beat you," he adds.  Albert then says that if he had been told about what happens in the United Arab Emirates prison system, he wouldn't have believed it. "I would have said you are exaggerating."
"I don't know how my dad has survived this long," Wolfgang Douglas tells the Travellers' Times. "He is now weighs 60kg – the weight of a 12 year old girl. We demand that the UK authorities act to bring him home to his family. We asked nicely at the rally outside Parliament last weekend. This campaign is not going away. Next time we have to rally, we won't be asking nicely. I am pleading with all Romany Gypsy and Traveller people – in fact every British citizen – to support us in bringing Albert home."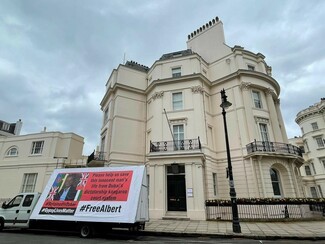 Campaigners are reaching out to all Romany Gypsy people – and Travellers – who have a social media presence to get behind the campaign. "We have reached out to Tyson Fury," says Wolfgang Douglas. "We need support."
The Travellers' Times spoke to human rights lawyer Radha Stirling who is spearheading the campaigns legal and lobbying challenges. Radha Stirling, who runs the pressure group 'Detained in Dubai', told the Travellers' Times that community support was essential in bringing people home from detention in Dubai.
"Media coverage and community support matters," said Radha Stirling, who has represented or been involved in 15,000 cases of detention in Dubai. "Just one little message from Tyson Fury matters," she said. "The community support in Albert Douglas's case, plus media coverage, is important in bringing him home."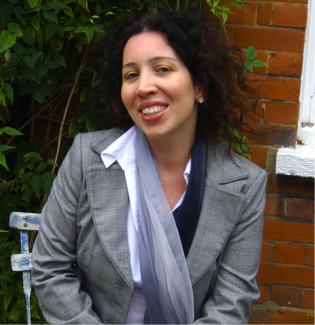 When asked by the Travellers' Times if the Government should warn British citizens about travelling to Dubai, Radha Stirling said that they do warn tourists on their website about not doing certain things, such as smoking hash, but there is no warning of the risks of doing business there.
"There are opportunities to do business and make money in the UAE," Radha Stirling told the TT. "But what business people from outside the UAE do not realise is that there is no legal justice system, and that if they get wealthy, they are at the mercy of predators – other business people who are often expats - who know and have connections within the corrupt system, and who will make spurious claims about debt through the authorities. If they win those claims – and they often do – then the assets of their victims are seized. Once this happens the victim then falls into a vicious circle, their assets are seized, leading to more debt claims, and they end up in prison with little, or no means, of defending themselves", she added.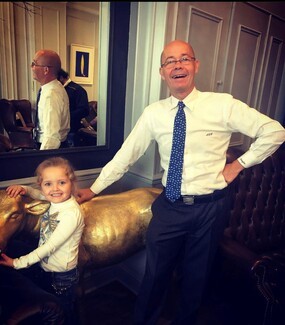 This is what happened to both Wolfgang Douglas and then Albert Douglas.
The Travellers' Times asked Radha Stirling if there was any hope for Albert Douglas. "Community support and lobbying are important, said Radha Stirling. "Albert Douglas has a lot more community support than a lot of cases of detention in Dubai I have represented. Saying that, I have represented people from all over the world who have been detained in Dubai and some of them have had little or no publicity or community support. I have never left anyone behind."
The TT had to do a double-fact-check: "15,000 people brought home from detention in Dubai?," we asked. "Yes. I5,000 cases in 13 years. I don't get many weekends free," she said.
The Travellers Times contacted the Foreign, Commonwealth and Development Office to ask them what they were doing to bring Albert Douglas home.
An FCDO Spokesperson replied with this statement:
 "We are supporting a British man following his arrest in the UAE. We are in regular contact with his family in the UK and have raised his case with the local authorities."
In further development campaigners say that Albert has been visited by an official from the FCDO. And in a move that gives hope to campaigners, the Dubai authorities have said that they are going to re-examine the bounced cheques which Albert Douglas maintains have his forged signature on.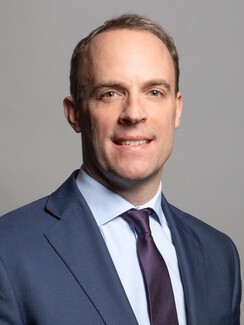 The most influential politician for campaigners and supporters to contact is Foreign Office Secretary of State Dominic Raab – who is also Member of Parliament for Esher and Walton in Surrey, says Radha Stirling.
Campaigners are urging supporters to contact him about Albert's case and ask him to put pressure the Dubai authorities. Dominic Raab's email address is here: dominic.raab.mp@parliament.uk
The Travellers' Times has contacted Secretary of State Dominic Raab for comment. We will update if he gets back.
In a new development today, sources close to the campaign say that the small cross-party group of politicians in both the House of Commons and the House of Lords that sticks up for Gypsy, Roma and Traveller rights are now looking at Albert's case to see what support they can give.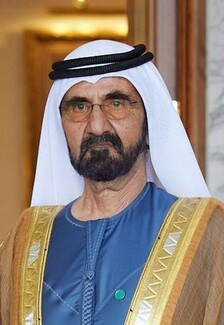 The Travellers' Times asked Wolfgang Douglas if he had a message for Gypsy and Traveller businesspeople wanting to do business in Dubai.
"Once you know the real risk you know no profit would warrant it," he answered. "If you are willing to gamble with your life then Dubai is where you should go. Doing business there ourselves has devastated our family. My mum, who is back in the UK and living with me, has now been separated from her husband for two years. They've been married for 40 years and, before this happened, have never spent more than 48 hours apart. My younger brother is autistic and is still over there because the Dubai authorities have seized his passport and he can't leave. If one of my other brothers hadn't have gone over there to care for him, he would have ended up on the streets - in a country where it is illegal to be homeless. Dubai and the wider United Arab Emirates has a good PR.  But beware of doing business there. You see the success stories – of foreign nationals getting rich - and you see all the influencer Instagram pictures, but you never read about people like my dad – and me – who fall prey to the corrupt legal system. Like the the Eagles song Hotel California – Dubai is a lovely place but you might never be able to leave."
By Mike Doherty for TT News
(All pics courtesy of the Douglas family, except if credited otherwise)
---