August 2nd Rally in Parliament Square to remember Roma Holocaust Day
17 July 2019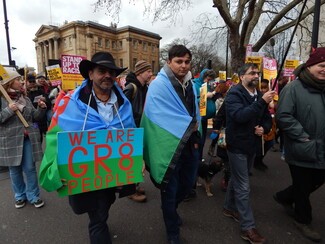 Roma activists GR8 and Grattan Puxon are organising a march and then a conference in London to commemorate Roma Holocaust Day.
The march will start in Parliament Square, Westminster, at 12pm on August 2ND and will then be followed by a conference.
A spokesperson from the group said that the conference would launch the Roma political movement in the UK. 
 Usually, when speaking about Holocaust, only the Jewish community is mentioned as victims, and the media doesn't mention Roma being in concentration camps," they said.
"Even in victims commemoration we can see that Roma are marginalized and excluded." 
 "With the 2nd of August event we want to raise awareness about the Roma population situation during the Nazi regime and the racism which is being demonstrated nowadays towards Roma."
TT News
(Photograph: GR8 leaders at an Anti-Racism Rally in London earlier in the year – by Mike Doherty)
---