Romany schoolboy receives reply from Prime Minister
9 May 2019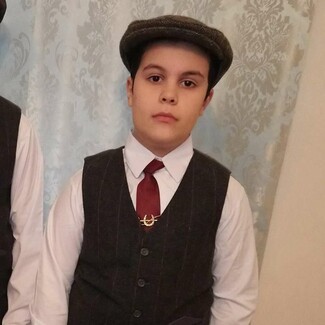 Theresa May has responded to a Romany Gypsy school boy's letter asking for more sites and equal rights for the UK's Gypsy and Traveller communities.
Nathan Abdul Karim, 10, who is of Romany Gypsy and Iraqi heritage, wrote to the Prime Minister to highlight the difficulties Gypsies and Travellers face in developing their own private Traveller sites and to ask for equal rights.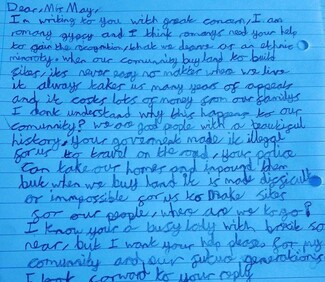 The Prime Ministers head of correspondence told Nathan that the Prime Minister "appreciated" the time Nathan took to write to her, and said he was forwarding the letter to the Ministry of Communities and Local Government, which had responsibilities for the issues that Nathan raised.
Nathan told the Travellers' Times that he wrote his letter as part of an 'inspiring writing', school project for Woore primary school in Cheshire.
"I'd like her help, to ask her to give us more rights the same as everyone else, to help give us more sites and to make it easier for us to get planning for sites too."
"We should have the same respect as everyone else and be treated equal to everyone else," he added.
A story about Nathan's letter in the Travellers' Times was read by leading Jewish Human Rights NGO Rene Cassin, who also complained to the Government about the lack of Traveller sites. Rene Cassin called Nathan's letter "poignant".
Nathan's mam Charmaine said she was "very proud" of Nathan.
Nathan has been going to school at Woore for a year now, where his mum also works, and every June the school celebrates Gypsy, Traveller and Roma History Month. Nathan's teachers told him that anything was possible if he put his mind to helping others.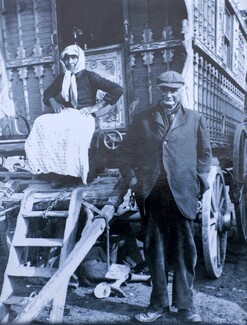 Nathan told the Travellers' Times that he was inspired by Black civil rights leader Martin Luther King. He said he wanted to be like Martin Luther King when he grew up – but for Gypsies and Travellers.
Nathan also said that he wants to send a letter to Sajid Javid, the Justice Minister, about the proposed new laws that could criminalise Travellers who stop on public land. Nathan added that he wants to meet with Rene Cassin and thank them for their support.
"I want Gypsy people to have the same human rights as everyone else, and to be treated equal and without discrimination," said Nathan.
By TT News
(All photographs courtesy of the Smith family)
---