LGBT Traveller group to join London Pride march for first time ever!
21 May 2019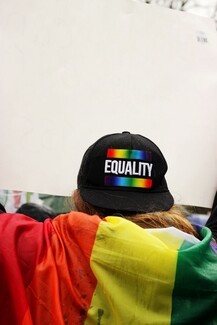 A Lesbian, Gay, Bisexual and Trans (LGBT) Traveller group will be joining the London Gay pride march on the 6th July for the first time ever!
As the internationally famous London Pride procession on the 6th July draws near, the Travellers' Times caught up with the organisers of the LGBT Traveller contingent to find out what was going on.
TT: So what is happening this year at London Pride?
Traveller LGBT Pride: For the first time ever there will be a space at Pride in London for a group of Travellers (term used inclusively of all identities). It will be a chance to prove to a lot of communities at once that we exist as well as for us to build a solidarity network which can be called upon by LGBT+ Travellers for advice, support, advocacy and information.
TT: Where will this take place?
Traveller LBGT Pride: Pride in London walks the length of Oxford Street before finishing in a big party in Trafalgar Square. We will meet the morning of the event at a location in central London to get ready (yet undecided) and will try meet up with anyone beforehand after.
TT: So why is this so unique and important?
Traveller LBGT Pride: Because it's never been done before and that's shocking! We've been marginalised for much too long and it's time we were celebrated as being as a valuable part of either community. For the group that we hope to emerge from this, because there's currently nothing out there and some people are completely lost without any support. It can be really rough to be an LGBT Traveller without knowing where you can go. We want to provide what wasn't there for us!
TT: When will it take and how can LBGT Travellers get involved?
Traveller LBGT Pride: The event is on 6th July but we have limited spaces so you will need to sign up with beforehand to ensure you have a spot. Email travellerlgbtpride@gmail.com to reserve a spot or if you have any questions. We're also looking for people to help organise it so come one come all!
TT News
(Main stock photo by Elyssa Fahndrich on Unsplash)
---