Facebook page closed by admin following "abusive, derogatory and offensive comments" towards Travellers
14 May 2019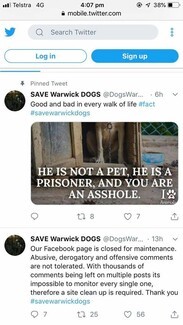 Yet Facebook say the comments did not breach their community standards on hate speech or bullying
A Facebook page which campaigners have called a "cesspit of Anti-Traveller racism" has been closed by its admin for a "clean up" to remove "abusive, derogatory and offensive comments".
Save Warwick Dogs Facebook page caused fury among Gypsies and Travellers and drew complaints to Traveller anti-hate crime specialists Report Racism GRT.
Comments left on the site included abusive "racially charged" words like "p*key," "As you likey," and Travellers who went onto the page to try to defend their community where called "Neanderthal scum," "filth," and told that they should be "booted out after Brexit."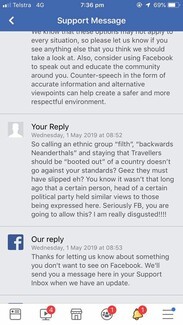 Romany Gypsies and Scottish and Irish Travellers are legally recognised ethnic minorities in the UK and are protected by equalities laws.
The Travellers' Times was contacted by Taylor, 20, a young Romany Gypsy woman was attacked by the Facebook bullies on the page. Taylor reported the comments and the page to Facebook – but the social media giant failed to do anything about the abuse and said that the racist comments and abuse did not breach their community standards.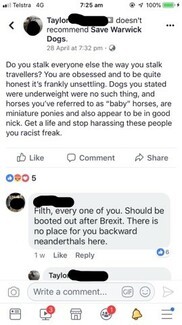 Taylor told the TT that she felt she couldn't just ignore the "vile comments" left on the page about both herself and Travellers in general, but was angry and then saddened by the torrent of abuse she received when she tried to point out the racism.
"Just the fact that these people think its ok to talk about another group of human beings in such a way is disgusting," said Taylor.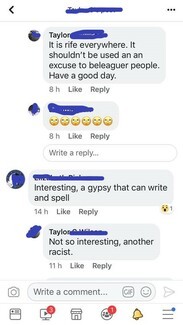 "I work with horses and it honestly hurts me to be seen in the same light as an animal abuser because these foul, obnoxious people think its ok to tar me with the same brush. It's totally unfair and uncalled for, and completely unacceptable."
"Reading those comments, at first I felt angry, but as time went on and these people kept replying to me saying the same thing over and over again, I became less angry about it and more saddened that these people that have never met me have this pre-conceived notion that I'm some sort of awful person. The worst part was being accused of condoning the abuse of animals when that couldn't be further from the truth."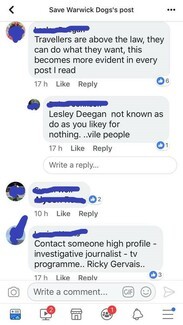 Facebook say that the following behaviour is banned from their platform:
Posting things that don't follow the Facebook Community Standards (ex: threats, hate speech, graphic violence).
Using Facebook to bully, impersonate or harass anyone.
Facebook sent the Travellers' Times a link to their community standards but at the time of going to press the content was not available on their site.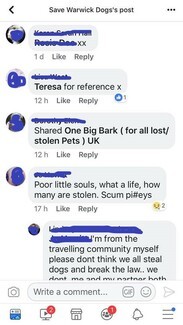 Josie O'Driscoll, Chief Officer of Gypsy and Traveller Empowerment Herts (GATE Herts), told the TT that their specialist hate crime reporting unit had received complaints from the Gypsy and Traveller community about Save Warwick Dogs. She warned that racist abuse on social media can have a severe psychological effect on victims, and that it was a shame that Facebook hadn't acted swiftly to close the page down, particularly in mental health awareness week.
"Hate crime against GRT communities are still under reported because of a lack of confidence that the reports will lead to effective action, and because of mistrust of the police and criminal justice agencies," said Josie O'Driscoll.
There seems to be an unwillingness to regard anti-Gypsy and anti-Traveller discrimination as seriously as other forms of racism
"There seems to be an unwillingness to regard anti-Gypsy and anti-Traveller discrimination as seriously as other forms of racism. We want hate crimes against the Gypsy, Traveller & Roma communities to be given the same public profile and recognition as other hate crimes.  There is only so much GATE Herts as a small organisation can do, we need the people to work with us at tackling this." 
"Hate Crime has violent consequences on not just the victim, but on families and even whole communities. Hate speech/crime has a strong emotional and psychological impact. The victim may experience post traumatic stress disorder, fear, anxiety, shock, depression and a loss of confidence in interacting with other people."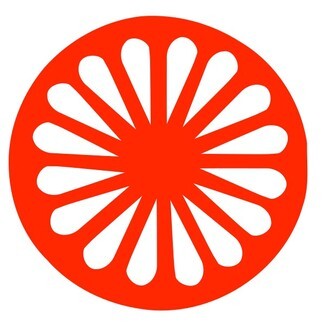 The TT contacted Facebook press office about Save Warwick Dogs and asked them if they would be willing to meet with Romany Gypsy and Traveller community leaders to discuss what they could do about the torrent of abuse the community face on their platform – and Facebooks seeming inability to recognise it as racist hate speech and ban it. Facebook failed to answer the question.
Facebook and Twitter are coming under increasing pressure from governments, campaigners and the police to clean up their act. The Government is currently planning a new law which will bring in a social media regulator which will have powers to ban and fine social media giants if they fail to keep to certain standards.
By TT News
---