Horsedrawn New Traveller "reassured" by anti-horse tethering campaigners – but concerns remain
7 March 2019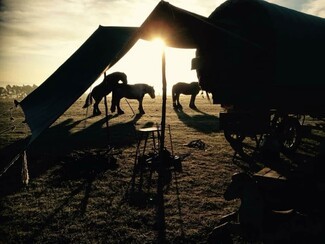 A Horse-drawn New Traveller has received a reply from Horse World, the campaign group that is lobbying Parliament to bring in new laws to make horse-tethering for more than 24 hours illegal.
Katja, who lives in her horse-drawn wagon, contacted Horse World because she was worried that any new law would outlaw her way of life – and the lives of hundreds of New Travellers who live horse-drawn on the byways and highways of the UK.
Horse-drawn Travellers tether their horses when they stop – and often they stop for more than 24 hours.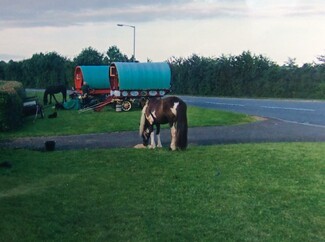 Horse World's #Breakthechain campaign is asking people to write to their MP to ask them to lobby the Government to bring in a law that:
Urge him to put a complete ban on tethering animals in unsafe locations such as roadsides, roundabouts and other public land that may pose a risk to both animal and the public.
Enforce a policy which states: 'if your only recourse for keeping a horse is tethering, you should not be permitted to own that animal'.
A spokesperson for Horse World replied to Katja and told her that they wanted to "reassure" her that anyone who treats their horses well and lives with them would not be affected by their anti-tethering campaign called #Breakthechain.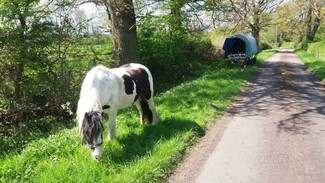 "Our aim is to be able to rescue horses who are left tethered with no access to food or water and whose welfare is suffering," said the spokesperson.
"We want to stop people from leaving their horses unsupervised on tethers for long periods of time. We are currently unable to rescue a tethered horse until they have reached a terrible state of suffering and this means we are seeing horses that die on tethers because we are unable to help. This is what we are aiming to stop."
However, on the friends of the 'Horse Drawn Campaign' Facebook Page, there was still concern and fears over the proposed new anti-tethering laws.
One horse drawn Traveller pointed out that the #Breakthechain campaign was against ANY tethering over 24 hours, and that the authorities might use the new law to harass Travellers and get them to move regardless of the welfare of the animal.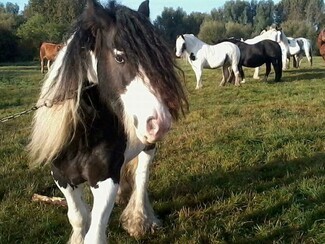 Another Traveller commented: "What if I want to stop for a few weeks for school or work or sickness?"
Yet another commented: "With this law i can imagine malicious councils rather than threatening you with eviction could just threaten to seize your animals under new tethering laws if they're tethered for more than 24 hours on the same highway verge. It wont be cutesie well intentioned horse world people doing that, it'll be baillifs under the guise of animal welfare."
Many Romany Gypsies and Travellers, who travel to horse fairs in motor vehicles with their wagons and sulkis on trailers and the horses in horse boxes, also tether their horses when they stop on their way to horse fairs, and they could also be caught up in any new law banning tethering.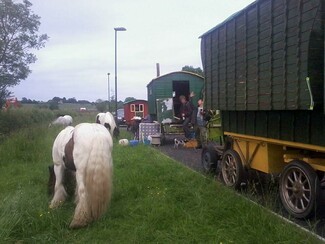 The Bristol-based charity Horse World has gained some interest in their campaign and #Breakthechain was debated by MP's in Parliament last month.
Introducing the proposed new Law, Luke Hall, Conservative MP for Thornbury and Yate, told Parliament that tethering allowed people who didn't own land to keep horses and that this needed to change.
"Traditionally, tethering has been used as a short-term method of keeping horses, but it has transformed into a method of retaining horses without having to purchase land, by using public or private grassland, often by the side of busy roads, for grazing," said Luke Hall MP.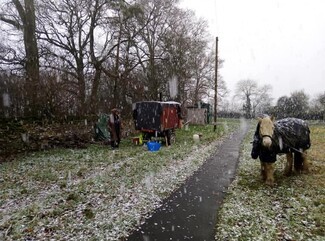 "Because the tethered animal can be moved quickly, it is easy for people to tether a horse on land that does not belong to them and then move the animal before the authorities can identify the landowner or the owner of the animal," he added.
Colonel Bob Stewart, the Conservative MP for Beckenham, asked if it was Travellers doing it.
"Do the majority of such incidents involve horses or ponies owned by Travellers who are just moving through?" he said.
Luke Hall MP confirmed that the proposed new law was mainly aimed at Travellers.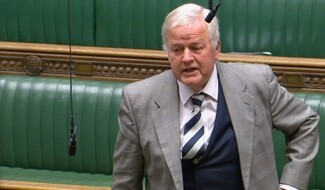 David Rutley MP, Minister for Animal Welfare, was also present at the debate. He told the MP'ds that whilst he applauded the #Breakthechain campaign for "highlighting the issue", there were already laws that forbade the mistreatment of horses and that bad tethering practice would be covered by them.
"I should clarify that tethering is not a banned activity, as there are circumstances in which tethering may avoid a greater risk of harm arising—for example, if a horse strayed into a place of danger. That point was made by World Horse Welfare in the statement issued this week," he said.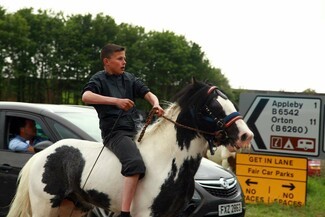 By TT News
(Lead photograph © Barney Maurice. Other photos courtesy of the friends of the 'Horse Drawn Campaign' except last photo -  Traveller on horse at Appleby © Natasha Quarmby)
---