Climb2Cure day draws near as Travellers train hard for sponsored mountain climb
25 January 2019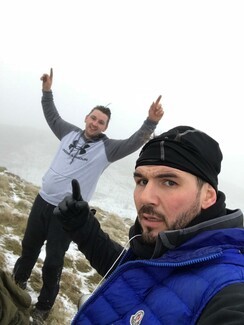 Watson Harrop and his team are asking for corporate sponsors as they prepare for a gruelling early spring climb of the highest mountain in the UK to raise money to save two children's lives
Watson Harrop Jr, who started the foodbank nomination challenge that swept the UK just before Christmas and filled the UK's food banks to the brim, is set to lead a team of men in a bid to climb Ben Nevis on March 1st, when the experts say that the mountain is at its most dangerous.
The money that the men – both Travellers and non-Travellers – raise, through sponsorship forms and their GoFundMe Page, will go towards the charity funds for two children who need specialist medical treatment in the USA.
One of the children is Isla Caton, two, who has a rare cancer and needs specialist treatment in the USA that is not available in the UK.
The other is Sean Gallagher, who is blind, partially deaf and disabled with severe epilepsy and needs specialist stem cell treatment in the USA.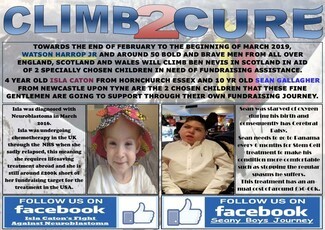 "This is all about saving those children's lives," says Watson Harrop, a harness racer from County Durham, told the Travellers Times the day after he completed another training climb of Roseberry Top in North Yorkshire accompanied by five other men.
"We won't know how much we have raised until after the event. Everyone taking part is also collecting sponsorship."
"We are also hoping that some business sponsors will come forward to support us. We will happily wear your logo on a T Shirt or something."
To sponsor men taking part in the climb of Ben Nevis click on: WATSON HARROP JR GO FUND ME PAGE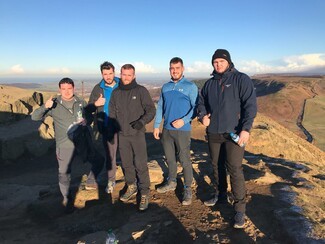 The men have already got some media coverage in the local press and hope to get more, and a major TV broadcaster has already shown interest. Climb2Cure will also feature in the May edition of the Travellers Times magazine.
Earlier in the week, Watson Harrop and Jack Burton, armed only with two flasks of soup and a pocketful of chocolate bars and sweets, completed a gruelling climb of xxx, battling wind, ice and snow to reach the top.
Watson Harrop says the training has also opened his eyes to the joys of fell-walking.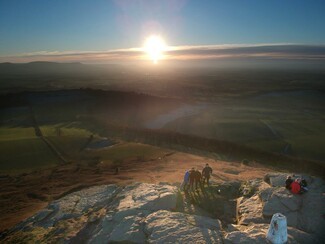 "I used to see people in their gear going mountain walking and wonder why on earth anyone would want to do that," he says. "But reaching the top is a real achievement and when the weather is clear the views are amazing. From Roseberry Top, on a good day, you can see down to the coast from one side and all-over North Yorkshire, Middlesbrough and all, on the other side. It's exhilarating and a great way to keep fit."
"But this isn't about starting a new hobby for Travellers," says Watson.
"It's about Travellers and non-Travellers working together to save two children's lives and we hope that people get behind us and help us to raise the cold, hard cash that they need to get specialist treatment."
We want to thank everyone who has supported us so far, including from the harness racing community, and urge others to get behind us and give us their support."
Picture: Jack Burton and Watson Harrop about to climb Holwick Scar, North Pennines, Teesdale
To sponsor men taking part in the climb of Ben Nevis click on: WATSON HARROP JR GO FUND ME PAGE
By TT News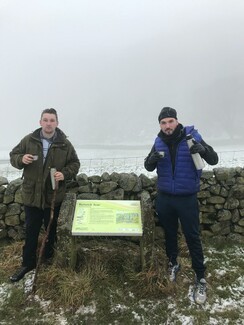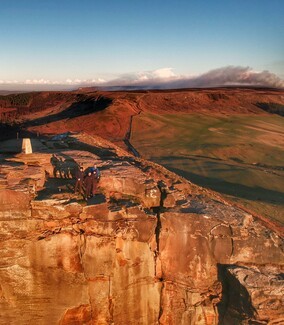 ---