'Free community journalism training for Gypsies and Travellers!' Say York Traveller Trust
29 October 2018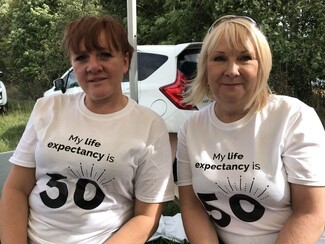 York Travellers Trust are looking for Gypsies and Travellers in the Yorkshire/North East Lincolnshire region to come to their free training sessions to give them the skills to collect stories from their families and friends around the topic of health.
Violet Cannon, Director of the York Travellers Trust and a Romany Gypsy herself, said that this was a great opportunity for Gypsies and Travellers to tell their stories and learn digital media skills.
"But above all," Violet Cannon, who will be helping to run the training, added, "it's a chance to get our voices heard on the topic of health."
 "We already have dynamic people from Doncaster signed up and ready to go but want more to join us! We hope that through training our communities to capture and tell our own stories, that we can help health services get their messages out to our communities to address these terrible inequalities."
People who attend and fully participate in all three training sessions will receive:
• Training from professionals in storytelling, audio and video interviewing techniques, photography training, blogging and social media campaigns.
• A £50 voucher and free lunch and drinks.
• The chance to create some useful tools to educate the Gorja community in our culture and heritage, to challenge stereotypes, and potentially improve the health of our communities across the UK.
• A certificate of attendance for the course and references from course leaders.

More information about the training from York Travellers Trust
 You must be over 18 to attend the free training, though anyone can have a go at collecting and submitting a story. The story 'assignments' will be jointly developed by the people who attend the course, and will be launched to GT communities exclusively via the Traveller Times and the Proud Gypsy Traveller website, Facebook and twitter account w/c 12 November, with a deadline for submitting your stories by Friday 30 November 2018.
 Each successful story that meets our guidelines and criteria will be awarded at £10 voucher (we have up to £150 of vouchers to award to the best stories). Your story has a better chance of being accepted if you attend our free media training sessions.
 The dates of the free training sessions are Saturday 3 November, Saturday 10 November and Saturday 17 November, 11am-4pm in Doncaster.
 Anyone from the GT communities who are 18 or over are welcome to attend the training sessions. You will ideally be living in (or have GT connections with) the Doncaster GT communities. No experience in media is necessary - just a willingness to learn new skills and carry out a minimum of two journalistic assignments. Ideally, you will need to bring a smart phone with you, as you will be learning audio, video and photography skills to capture stories using a smart phone.
About health inequalities
Health inequalities in the Gypsy and Traveller communities are well documented, though not widely publicised.
The average life expectancy for a woman in the UK is 81, but the average life expectancy of a woman from a GT community is just 51, as discovered by the Leeds Gypsy and Traveller baseline census, a figure accepted by NHS Pacesetter as accurate. Yet the figure often discussed is 12 years less. Which came from much older research in Ireland.
To find out more about the course, or to apply, contact:
Violet Cannon
Email: violetwf10@aol.co.uk
Facebook: www.facebook.com/Proud-GT
Twitter: @ProudGT
 About the team behind the project
The Gypsy Traveller Community Journalism programme is a joint project by:
• Violet Cannon - a Romany Gypsy, Director of York Travellers Trust, writer and photographer.
• Justine Gaubert - social entrepreneur, writer and Community Journalist trainer.
• Doncaster Clinical Commissioning Group (CCG) - the people responsible for commissioning health services in Doncaster.
• Co:create - a team based at South Yorkshire Housing Association who specialise in co-production in the housing, health and social care sector, funded by the Department of Health's 'Innovation, Excellence and Strategic Development Fund'.
TT News
(Main picture: Debi White and Violet Cannon from York Travellers Trust at Lee Gap Horse Fair © York Travellers Trust)
---