Gypsy First World War hero honoured in Scunthorpe
11 November 2016
Special Remembrance Day service for John Cunningham VC
A paving stone will be unveiled in Scunthorpe for Gypsy John Cunningham, who won the Victoria Cross medal for his bravery in the First World War – when he was only 19 years old.
The unveiling will take place on Sunday 13 November 2016 as part of the Remembrance Day service in Scunthorpe.
Communities Minister Lord Bourne said that heroes like John Cunningham remain "inspiring."
"The stone laid to remember John Cunningham is a fitting tribute to his extraordinary strength and courage," said Lord Bourne.
"My hope is that this ceremony will bring communities together in his memory and in turn be inspired by his bravery," he said.
"A century may have passed but heroes like John Cunningham who fought and died for their community and nation are as inspiring as ever. We all owe them our gratitude."
John Cunningham was born on 28 June 1897 in Swains Yard, off Manley Street, Scunthorpe. The family later moved to Hull where John attended school before enlisting in the 3rd Hull Battalion when he was 17.
The family were of Romani gypsy heritage and John was one of thousands of Gypsies and Travellers who joined the army at the start of the First World War. He served with the East Yorkshire Regiment, guarding the Suez Canal in Egypt, before the regiment moved to France and the Western Front.
On 13 November 1916, when John was just 19 years old, he was awarded the Victoria Cross for his bravery in the Battle of the Somme.
Read more about John Cunningham – also known as 'Jack' - by following this link to The Proud Gypsy Traveller website.
Earlier this year, North Lincolnshire Council launched a campaign to find John Cunningham's relatives so they could be involved in the unveiling of the commemorative stone. A number of John's descendants came forward and his nephew and oldest living relative, 81 year old John Moore, will unveil the paving stone exactly one hundred years after his uncle was awarded this most prestigious of medals.
Cllr Liz Redfern, Leader of North Lincolnshire Council, said:
"Remembrance Day is our chance to show our appreciation to the service men and women who have given their lives for their country. This years' service will also give us the opportunity to honour one local hero especially who showed great courage and valour in his duties.
"Last December, a veteran of the Yorkshire Regiment contacted the council about the VC paving stone programme and we are delighted to be able to provide the perfect spot for Private Cunningham's commemorative stone.  The laying of the paving stone will not only honour John Cunningham's bravery, but provide a lasting legacy of this local war hero and give local residents a better understanding of how our area fits in the First World War story."
John Cunningham VC's commemorative paving stone will be laid at the base of the war memorial outside North Lincolnshire Museum on Oswald Road and will be unveiled as part of the annual Remembrance Day service.
The service, organised by the Royal British Legion, will begin at 10.25am on 13 November with a parade from The Baths Hall on Doncaster Road to the war memorial outside North Lincolnshire Museum for 10.35am.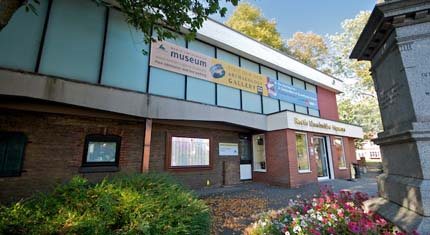 'North Lincolnshire Museum where the ceremony will take place'
Serving members of today's Yorkshire Regiment, and veterans old and new will be attending the service. The event will be made even more significant because The Yorkshire Regiment will bring along Private Cunningham's original Victoria Cross which is held by the regiment in the York Army Museum.
Regimental Museum Curator Wing Commander Alan Bartlett said: "It is very rare for a medal as important as this to be on show publicly, but the 100th anniversary of the First World War and the laying of this special stone would not be the same without having Private Cunningham's real Victoria Cross here in his home town of Scunthorpe today." 
The East Yorkshire Regiment – which disbanded in 1958 – will be represented at the event by Mr Ray Lord, a resident of Hull and a veteran of the D-Day landings of 6 June 1944.
A wreath will be laid by one of Scunthorpe's own, Warrant Officer Paul Smales from the 2nd Battalion The Yorkshire Regiment based at Catterick.  The 2nd Battalion will return to Kabul, Afghanistan in 2017.
The Mayor of North Lincolnshire, Cllr Trevor Foster, will be attending the Remembrance Day parade and service with invited guests: Deputy Lieutenant Sir Reginald Tyrwhitt Bt, DL and Lady Charlotte Tyrwhitt; Nic Dakin MP for Scunthorpe; Humberside Police Superintendent David Hall; Humberside Police and Crime Commissioner Keith Hunter; and, Scunthorpe Charter Trustees.
A display board about the life of John Cunningham VC has been added to the First World War gallery at North Lincolnshire Museum to provide visitors with more information about this local war hero. The museum will open early on Sunday 13 November for attendees of the service to come and look round the First World War gallery.
Footage of John Cunningham VC and stories of brave 'Yorkshire Warriors' old and new, are also on display in the York Army Museum on Tower Street, York.
The Victoria Cross commemorative paving stones programme is a national scheme that will see every VC recipient of the First World War honoured with a paving stone laid in their birthplace.
The Victoria Cross was introduced on 29 January 1856 by Queen Victoria to honour acts of valour during the Crimean War. Since then, the medal has been awarded 1,358 times to 1,355 individual recipients. Only 15 medals, 11 to members of the British Army, and four to the Australian Army, have been awarded since the Second World War.
The citation for John Cunningham's Victoria Cross reads:
'On 13 November 1916, the opening day of the Battle of the Ancre (the final offensive of the Battle of the Somme), attacking from opposite Hebuterne, the 31st Division was to seize the German trenches and form a defensive flank north of Serre.  After the enemy's front line had been captured, Private Cunningham went with a bombing section up a communication trench where much opposition was met and all the rest of the section were either killed or wounded.  Collecting all the bombs from the casualties, Private Cunningham went on alone and when he had used up all the bombs he had he returned for a fresh supply and again went up the communication trench where he met a party of 10 Germans.  He killed all 10 and cleared the trench up to the new line.  His conduct throughout the day was magnificent.'
---