#OperationReportHate - Gypsy, Traveller and Roma campaigners join Police Chief to call for greater recognition of hate crimes
7 September 2016
The Traveller Movement – with support from the National Police Chiefs' Council – has launched a national campaign, #OperationReportHate, to raise awareness of hate crimes against the Gypsy, Traveller and Roma communities and the need to report them.
Since the EU referendum result the number of reported hate crimes has risen sharply; Gypsies, Travellers and Roma have experienced increased attacks across the country but are still not reporting the crimes to police.
The Traveller Movement has teamed up with a number of community groups and stakeholders to ensure that the communities are aware of hate crimes and how they can report them. The end goal is for improved data collection and for hate crimes against the Gypsy, Traveller & Roma communities to be given the same public profile and recognition as other hate crimes.
Yvonne MacNamara, CEO of the Traveller Movement, commenting on the campaign said:
"Since the EU referendum, the papers have been full of stories of hate crimes and attacks against ethnic minorities and vulnerable groups. Yet, little has been mentioned of the experience of Gypsies, Travellers and Roma people who for far too long have suffered such attacks in silence and seen them a part of daily life.
#OperationReportHate, by working in direct partnership with the communities themselves, will explain what hate crimes are and why it is important to report them.
However, awareness raising alone is not enough. For this campaign to be a success, there also needs to be a real concerted effort from the government, courts and the police to show they take these crimes seriously. This is why we are delighted to have the support of the National Police Chief Council on this campaign."
"Only when hate crimes against Gypsies, Traveller and Roma are prosecuted with the full force of the law will the communities begin to have faith and trust in the authorities to protect them."
Sherrie Smith for GATE Herts – a Gypsy and Traveller lead charity that runs a third party hate crime reporting website feeding into True Vision – said that they welcomed #OperationReportHate and that it was important for people to work together to encourage the reporting of hate crime and to promote Hate Crime Week next month.
"Gate Herts own dedicated hate crime reporting page ReportRacismGRT has been receiving an escalating stream of incidents of hate since we launched on social media a year ago," she said.
"We as a community must encourage reporting, stop tolerating it and challenge it. We must come together, against this."
A top police Chief – responsible for combatting hate crime has also welcomed the move and urged Gypsies and Travellers to report hate crime to registered campaign organisations or to the True Vision national hate crime reporting website.
National Police Chiefs' Council Lead for Hate Crime, Assistant Chief Constable Mark Hamilton, said:
"I am delighted to support this important initiative. All forms of hate crime are unacceptable, in any circumstance, and it is important that all communities feel comfortable in reporting hate crimes."
"To help Gypsies, Traveller and Roma report hate crimes against them more easily, we will soon be launching a dedicated page on the True Vision website, which will also contain links to third party reporting centres," he added.
"Alongside the work of True Vision, I will continue to encourage police forces across the country to work closely with Gypsy, Traveller and Roma community groups and look forward to working with the Traveller Movement in ensuring this campaign a success."
An organisation for serving Gypsy, Roma and Traveller police officers and staff – similar to the National Black Police Association – also came forward to support #OperationReportHate.
Police Constable Jim Davies, a Romani Gypsy and founding member of the Gypsy Roma Traveller Police Association (GRTPA), said that many Gypsies, Roma and Travellers did not trust the police to deal with their complaints and that there where good reasons for this, but that #OperationReportHate was a "positive step" in the right direction.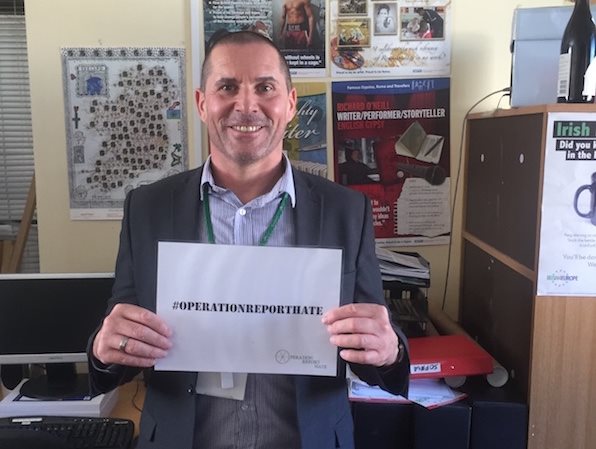 "As far as Gypsies, Roma and Travellers are concerned the criminal justice system is not an ethnically neutral one. It has for far too long functioned on the basis that Gypsies Roma and Travellers are criminal groups rather than ethnic groups," he said.
"Being well aware of the biases held against them, having experienced years of negative interactions with authority figures, not just police, but extending to schools, politicians and even the courts there should be no surprise in the lack of legitimacy with which many GRT people regard the authorities," he added.
"Until this legitimacy and trust is built, it is unlikely Gypsies Roma and Travellers will be rushing to the Police and associated services asking for help with issues of hate and discrimination, regardless of how badly they may need that help."
"Alongside the work of the NPCC's GTR working group, #OperationReportHate is a positive step towards building this trust."
"But it is systemic change that is really needed across the whole of the criminal justice sector. We hope this campaign leads to the Home Office insisting on police forces adding Gypsies, Roma and Travellers to the list of ethnicities of services users and employees they are required to record and report."
The Traveller Movement ran a recent Discrimination Survey which found that 83% of Gypsy, Roma and Traveller respondents had experienced hate crime/speech.
The Home Office requires police forces to record and report the ethnicity of users and employees; however, after Freedom of Information requests by the Traveller Movement it was revealed that the classification system currently in use by 81% of UK police forces does not include GTR categories.
The Operation Report Hate webpage can be accessed here: http://travellermovement.org.uk/index.php/hate-crime/operation-report-hate
---