'Gypsy Kids' star Ben Bennett takes a stand against racism
16 September 2016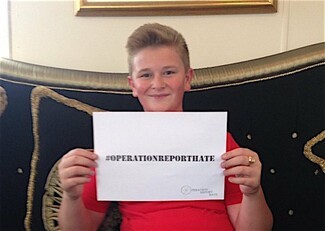 Ben Bennett, one of the young stars of the much anticipated Ch5's new series about Gypsy and Traveller young people which launched earlier this month, has pitched in to support a Gypsy/Traveller anti-race hate campaign.
Ben – who stars in the TV series 'Gypsy Kids – Our Secret World' and talks about becoming a qualified pilot when he gets older – took to Twitter to post  a photograph of himself holding up the logo to 'Operation Report Hate' and tweeted:
"Proud to support #operationReportHate #gypsykids my community suffer daily retweet &support @GypsyTravellerM."
Ben is featured in episode two of the series, produced for Ch5 by TV production company 'Knickerbockerglory'. The series launched to "relief" from many Gypsy and Travellers who were fearing another 'Big Fat Gypsy Weddings' type show.
On the show, Ben and his mum Nathalie talk about the racism and bullying that Ben has faced at the nine schools he has attended, and how Ben is determined to rise above it and realise his dream of becoming a pilot like his Grandad who served in the Royal Air Force in the 1950's.
Talking to The Traveller's Times, Ben Bennett said that he felt that the popular TV series – which was watched by 1.6 million viewers – had given him an opportunity to have his voice heard.
"It was fantastic to be involved," he said.
"It gave me and other Gypsy and Traveller kids an opportunity to show who we really are, and that we are just everyday kids that have the same dreams and aspirations as anyone else." 
"Since I have been on the program I have received thousands of positive messages wishing me every success for my future.  Some have even said that the program has changed their perception of Travellers to a positive one."
"I am now enjoying my latest school and the school and the teachers are very supportive and they really want me to succeed, I've also made lots of friends.  Since the program has been on TV it's been very positive for me."
Ben Bennett said that his past experience of dealing with bullying had prompted him to support Operation Report Hate and he hoped that the campaign would "wake people up" to the hatred and prejudice that many Gypsy and Traveller young people have to face in their daily lives.
"I personally have experienced hate crime and it's horrible, it makes you feel worthless," he said. 
"This campaign gives an opportunity for my community to stand up to hate crime by reporting it."
Because of the fall-out from the infamous Ch4 series 'Big Fat Gypsy Weddings' and the promotional 'Bigger, Fatter, Gypsier' billboards – two of which were eventually banned by the advertising watchdog - many Gypsies and Travellers where "dreading" the new series on Gypsy and Traveller children when the Traveller's Times broke the news that it was in production for Ch5.
However, the initial reaction to the series from Gypsy and Traveller campaigners, now that all three episodes have been shown, has been one of "relief".
Speaking to The Travellers' Times, Nathalie Bennett – Ben's mum – said that after talking to the producers of Gypsy Kids, she had taken "a leap of faith" and decided to become involved.
"We became the consultants on the series," said Nathalie. "The producers did everything they said they would – we were involved in the editing process – and the result has been positive."
"At the end of the day it worked out, thank God," said Nathalie.
Nathalie Bennett – who runs a Gypsy/Traveller organisation in the Nottinghamshire area called 'Gypsylife' - said that 'Gypsy Kids' stood in stark contrast to "certain Ch4 shows in the past," adding that the 'Gypsy Kids' producers presented Gypsy and Traveller children and young people as "resilient and resourceful".
The Traveller's Times, who declined to take part in the first series and instead published advice on how to protect yourself when working with TV production companies written by a TV industry insider, contacted Knickerbockerglory TV who said that they were pleased with the reaction to the series.
They added that they took great care of the young people they worked with and even employed a trained psychologist to check on their welfare.
Knickerbockerglory wouldn't be drawn on whether a second series would be made, but said they were "hopeful".
The Traveller's Times will be talking to Ben Bennett about his ambition to become a pilot. Watch this space!
---