Purple Heather
9 February 2015
HAMPSHIRE and London-based production company, Constellations Entertainment, has announced that is finally in formal talks to adapt their debut film project Purple Heather- set amongst the Romany community of the 1920s New Forest-  into a television series for a national broadcaster.
The film, written by 2014's Brit Listed writer Sameera Steward, who is also a producer on the project, is set in 1926, soon after local legislation had been introduced throughout England – and much of Europe – enforcing the New Forest Romany population to abandon their travelling way of life for small, claustrophobic compounds.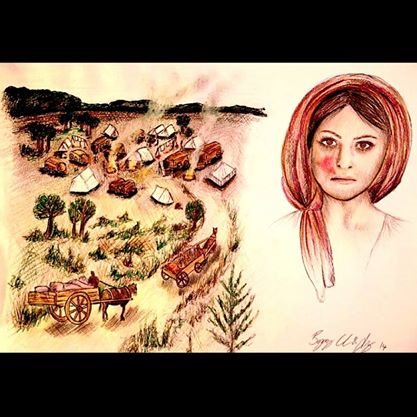 Above: Purple Heather will follow young Romany Eva through turbulent times for the New Forest's Gypsies
The story follows the journey of one of these families as they face, head-on, these incredibly trying times of change. Eva – the lead character – is our entrance into this world, and we watch as she battles desperately to keep her family, and their own traditions, together, whilst learning to adapt to her new environment. 
While the film itself is set to be directed by a relative newcomer, Alfie Dale, whose background lies in corporate promotional videos, he is no stranger to the narrative film making world, having spent a large part of the last 3 years developing various projects with Constellations.  Completing the team is South African born, London-based producer Tumi Itholeng, whose experience in productions varies from interactive promos and award winning music promos for the Crystal Fighters, to a web series on the FA Cup.
In the meanwhile, if you are interested in supporting the project on crowdfunding visit the website for Indiegogo. Alternatively, to get in touch with the team or to even being considered for the casting, contact them directly by email and follow the company on facebook and twitter and on their website. 
---