Gypsy Roma Traveller Police Association launched at Westminster
4 November 2014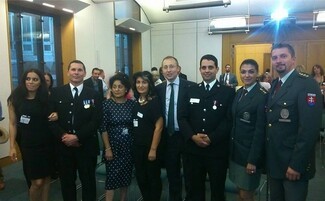 Above: Andy Slaughter MP, fourth from right, with GRTPA members and supporters
THE first ever association representing Police Officers from the Gypsy, Roma and Traveller communities has been officially launched at Westminster.
The event- which took place in Government buildings at Portcullis House- was chaired by the Shadow Justice Minister, Andy Slaughter MP, was hosted by the All Party Parliamentary Group for Gypsies Travellers and Roma, with support from the Traveller Movement.
The GRTPA was started in September 2013 by Jim Davies, an English Romany Gypsy Officer from Thames Valley Police, and Petr Torak, a Czech Roma Officer from Cambridgeshire, who met by chance at an Association of Chief Police Officers conference. The association has grown quickly and now has over 50 members from the UK and several members from Europe.
"Successful Travellers are apprehensive about disclosing their ethnicity"
Jim Davies; GRTPA Chair and Police Officer at Thames Valley Police said: "I had heard of other Traveller Police Officers but didn't know who they were. We just weren't that visible.
"Part of the problem is, I think, that such is the level of discrimination towards us, discrimination that exists in all walks of life, many Travellers who have built successful careers are apprehensive about disclosing their ethnicity for fear it may harm them. This is as true in policing as it is in other professions," he said.
Petr Torak, GRTPA member and Police Officer at Cambridgeshire Police said: "First and foremost we are a support association for Police Staff who are Gypsy, Roma or Traveller. We are there to provide support to our members and help in any way we can with the issues that affect our working lives.
"We can turn the age-old myth that all Gypsies and Travellers are criminals on its head"
"However, we can do much more than this. We want to help break down the barriers between the Police and the Gypsy Roma Traveller community. We want to be a police network that will give Gypsy, Roma Traveller people the confidence to be visible, and by being visible I think we can turn that age old myth, that all Gypsies and Travellers are criminals, on its head."
Yvonne MacNamara, CEO for the Traveller Movement said: "The Traveller Movement is proud to be supporting the launch of the Gypsy, Roma, Traveller Police Association and we hope that it will mark the beginning of a more meaningful relationship between the police and the communities and will build trust on all sides.
"Barriers are being broken down"
"The formation of the GRTPA also sends out a clear message of hope for all young Travellers. The barriers are being broken down and it's good to see Romany Gypsies, Roma and Travellers visibly engaging with civil society in positions of authority and responsibility," she said.
---