YTT interview with Romany artist Liza Mortimer: 'Take Us As We Are'
4 June 2018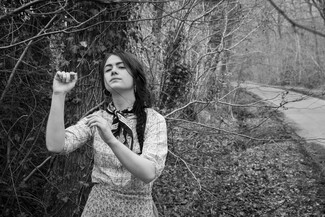 YTT caught up with Romany Gypsy artist Liza Mortimer about her solo performance 'Take us as we are' an exploration of identity centred on what it means to be a female in the Romany Gypsy community. 
Liza is a 23-year-old Romany Gypsy from Ashford in Kent. She is currently studying a Masters in Art with a focus on dance. The young artist debuted 'Take us as we are' at the Attenborough Arts Centre in Leicester on Sunday 17th June.
So, tell us about 'Take us as we are'
'Take Us as We Are', is an exploration of my Gypsy and Traveller heritage and culture. My second work under this title, an autobiographical solo performance, which aims to explore my identity by addressing what it means to be a female in the Gypsy and Traveller community - implementing characters, text, dance and projection.
How did you develop the idea for the performance?
Towards the end of my BA Hons degree in Dance at De Montfort University (DMU) I wanted to focus on discovering my own voice within the performance. The opportunity to work with Rural Media on my Random Acts project amplified my interest in the Gypsy and Traveller culture even more so, and it was after completing the film that I decided that 'Take Us As We Are' will become a string of work that encompasses different perspectives and voices regarding myself and others in my community.
Watch out for the release of Liza's Random Acts film 'Take Us As We are' coming your way soon.
What's the performance about and who inspired it?
My solo performance is about the path of discovering my identity through acknowledging and questioning my Romany Gypsy Heritage, specifically looking at the female perspective within the community.
Using story as a tool to express thoughts and experiences of myself and others, the work aims to inform and appreciate the culture and recognise its value within society. A big inspiration for 'Take us as we are', comes from my family's involvement in the 1969 documentary called 'Where do we go from here?', and the creation of folk songs seen in the album, 'The Travelling Songster: an anthology from Gypsy singers', made in 1977 - both of which have a role within the performance.
However, on a personal level my Great Gran Minty Smith, my Gran Maryanne Hilden and my mother Rachel Smith have provided an immense amount of inspiration based on their stories and who they are as people.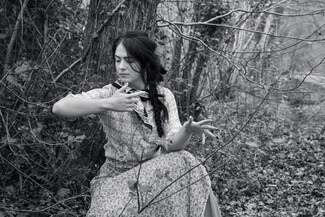 What are you currently studying and is this performance part of a bigger project?
I am currently studying a Master's in Art; it is a self-directed course at DMU where I am focusing on my Gypsy and Traveller heritage and culture as a precedent for my creative practice and performance work.
'Take us as we are' was made for a module on this course, but I also aim to develop the piece further and bring it to the public, as well as creating engagement within the Gypsy and Traveller community. The wider ambition for my work is to apply for funding, so I will be able to continue to research and develop the show and also create workshops with young Gypsy and Travellers to engage them in the arts more.
---