Young Gypsies and Travellers meet Prince Charles at Welsh Assembly opening
14 June 2016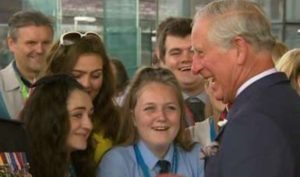 Young Gypsy and Travellers were amongst many Welsh youth groups that met the Queen and Prince Charles at the Royal Opening of the 5th National Assembly for Wales in Cardiff.
'Save the Children's Travelling Ahead project were one of the groups chosen to represent Wales' youth organisations at the event at the Senedd in Cardiff Bay.
The Welsh Assembly is the Welsh Government, which is devolved from the UK Government, and it has done much in recent years to promote Gypsy and Traveller rights and recognition.
Young people from Pembrokeshire's Unity Project Chelsea Jones and Ricky Price, together with Nicole Miller, Carly Thomas and Ellie Edwards from the Equal Voice Forum based at Torfaen's West Monmouthshire Schoo,l were the young people representatives and were able to say hello to the Queen. Chelsea Jones presenting a hand-made posy and the whole group were smiling when Prince Charles then stopped for a chat with them on the steps of the Senedd the Welsh Assembly building.
Travelling Ahead were delighted to be able to support the young representatives from the Romany Gypsy community in Wales to attend the event and play a part in the day.
The group also met for a photo opportunity with Julie Morgan the newly re-elected Assembly Member for Cardiff North who is the Chair of the Welsh Assembly's Cross Party Group for Gypsy and Travellers outside the Pier Head building.
Photo captions – Travelling Ahead group with Welsh Minister Julie Morgan and Young Gypsies and Travellers meet Prince Charles.
The event in full can be viewed on Senedd TV here: http://www.senedd.tv/Meeting/Archive/43aae2f2-b22f-461d-8aa8-693fe3f9880d?autostart=True# and you can see the Queen greeting the young people at 1.05:27 and Prince Charles talking to the group at 1:07 into the programme
---