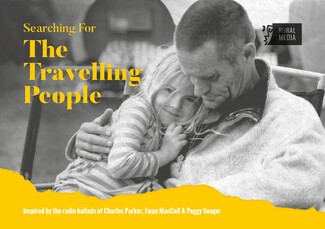 [The Radio Ballads] changed the course of broadcasting history. What makes them so important now is that, at their best, they tell you things you don't forget. The Travelling People is even more powerful than it was in 1964"; GILLIAN REYNOLDS
Photo (C) Natasha Quarmby
'The Ballad of the Travelling People', created by the pioneering radio producer Charles Parker alongside folk musicians Peggy Seeger and Ewan MacColl in 1964, was the eighth of a ground-breaking series of BBC Radio Ballads that explored the lives of ordinary working people.
Inspired by an article in the Travellers' Times by Traveller writer, poet and author Damian le Bas) and with support from the Heritage Lottery Fund and The Charles Parker Archive Trust, we have taken Damian on a journey to re-visit the people and places Parker, Seeger and MacColl connected with more than 50 years ago to create  a new ballad  for the modern Traveller.
We hope this work will inspire a whole new generation of young Gypsies and Travellers to embrace their heritage and bring their unique culture to the wider world. Read about the whole project here .
There are lots of extra interviews and archive material you can listen to in the Media section in grey box on the right hand side of the page - use the side bar to scroll down for more content.   
We hope the film, audio recordings and archive material inspire you to find out more, to help you can  
DOWNLOAD our 'Researching Gypsy & Traveller Heritage' Toolkit here 
DOWNLOAD top tips for recording your own oral history here 
thank you, so rich and raw! An amazing collection. Freedom to talk is so important and Travellers' Times gives us all that platform, Jess Smith