We are GREAT people!
14 August 2019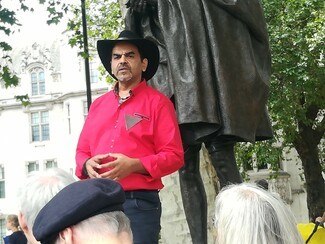 Alunica Lepadatu interviews Virgil Bitu from the GR8 political movement
According to GR8 leader Virgil Bitu, the persisting racial discrimination and unjustified stigmatization urged the rupture between GRT and the mainstream society. Gypsy, Roma and Travellers communities have always been excluded and, in some cases, even segregated from accessing social and governmental services.
The willingness to tackle discrimination and prejudices, preventing GRT from socio-political inclusion and development became the reason for GR8 (Great) Power representative body creation. I had a chance to interview Virgil Bitu about the newly proclaimed movement of GR8 Power.
Alunica Lepadatu: Virgil, could you explain in a few words what "GR8" means when speaking about Gypsy, Roma and Travellers political representation in the UK?
Virgil Bitu: GR8 – stands for Gypsy, Roma and 8 other ethnic related groups. GR8 Power aims to bring together all the organisational and individual representatives of these groups to establish a strong movement that can influence the governmental decisions about us. It is crucial for us to be together and to be loud! We should learn that from Jewish, Black and LGBT communities, who succeeded in their fight to claim their rights and become strong. We have to understand that our power is in numbers - we are many and we need to use this strength for our benefit. GR8 wants to represent this big number of Gypsy, Roma and Traveller (GRT) people and to raise our voice on the local and national political levels.
NOTHING ABOUT US WITHOUT US. The fact that there is no GRT person within the Holocaust Commission is a direct example of misrepresentation. This fuels the eagerness of us having GRT people within main decision making bodies. Virgil is convinced that only when GRT people will be involved in decision making, we will succeed to be fully integrated community.
AL: I may mention that the government is not totally ignorant about GRT issues in the UK. What would you say about the recently issued national strategy for tackling GRT inequalities?
VB: In my opinion it is far of being a strategy. It is more a political statement. And the allocated budget of £200,000 is just £50,000 pounds more than the annual salary of the Prime Minister. So the allocated money for one person and for several million people is almost the same. These are peanuts…are we monkeys? I think this happened because we were not efficiently involved in negotiations to highlight the problems and put forward resolutions.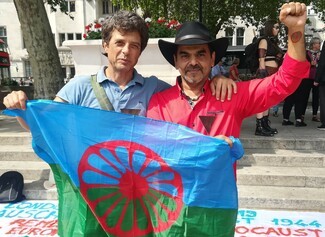 AL: Can you tell me the actions the GR8 power will take to prevent the misrepresentation and fill the gap between GRT and mainstream society? 
VB: Our members will do their best to be the link between GRT communities and authorities. We should not be solely responsible for our issues. The authorities should come forward as well and take the responsibility for its citizens and residents. Soon want to gather people in conference meetings around the UK and to acknowledge all issues we have. Based on that we will draft a proposal of a more comprehensive national strategy with a corresponding budget to be allocated by the government.
AL: How will you build the Great Power as a structure?
VB: GR8 won't be a legal entity, so it will not run projects. Our activity will be restricted to GRT political representation only. We will establish a membership and an elected committee where all members are equal in positions. No presidents, chairs or kings. That's why other organisations may freely join GR8 and have their say, without the fear of competition and without project fundraising.
The Great Power was launched on the 2nd of August and is planning its first conference in Peterborough in the coming months.
Interview and pictures for the TT by Alunica Lepadatu 
---