'Romany Army' strikes against racism and 'victim's role'
1 November 2017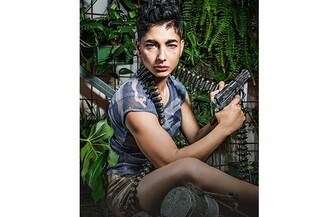 BERLIN, 2017 – one of modern Europe's creative capital cities. A magnet for the arts.
And a city infamous among Romany people: the former seat of power of the Nazis, who along with their allies murdered hundreds of thousands of Sinti and Roma people during the years of the Second World War.
There can be no more powerful place for a 'Romany Army' to make its first strike. But this army's weapons aren't guns and bombs – they are drama, writing, dance, and visual art, designed to help audiences see the complexities of Romany life experience from the inside point of view.
'Roma Armee Fraktion' – German for 'Romany Army Group' – is an ongoing theatre and art spectacle that has recently opened at the Maxim Gorki Theater, one of Berlin's premier artistic venues.
It is the brainchild of sisters Sandra and Simonida Selimović, who come from a Romany family and grew up speaking five different languages including Romani. Originally from Serbia and now based in Vienna, the pair conceived of a radical new way to fight racism against Romany people with a "rapid reaction force".
But they also aim to challenge limits on the freedom of Romany women; the 'internalized victim's role' of Romany people, and the idea that the Romany community can't be diverse.
The production sets out its stall as a home for the mixed and international nature of the Romany community. "The actors are Romnija, Rom and Romany Travellers from Austria, Serbia, Germany, Kosovo, Romania, England and Sweden," say the show's creators, "But they are also Israeli-Germans-Turkish-Gadjé (Gorjer)". As a result, "the Roma army is supra-national, diverse, feminist, queer."
The play has been developed by celebrated director Yael Ronen with input from the actors – who include Riah May Knight from Sussex, UK – to reflect their own experiences, with current news issues and Romany history also woven in.
Visually bold, extravagantly colourful and totally unapologetic, the costume design mixes military garb with glitter, glamour and street style. And the script contains some unforgettable lines, including "I never want to hear a Roma person say to another one, 'You are not Roma', ever again."
Artists Delaine and Damian Le Bas, also from Britain, have been intimately involved with the work, adding ideas to the script and designing bold art for set which uses animation and underlying lights to dreamlike effect. An enormous, remade map of Europe as GYPSYLAND EUROPA glows and flickers behind the actors as they perform.
The play is ongoing and there are hopes that it may travel to other cities, including London. Watch this (hopefully soon to be invaded) space.
For more information, visit the play's website: http://gorki.de/en/roma-armee
Photo: Esra Rotthoff
---