New domestic abuse initiative 'Lighthouse' launched to help reach marginalised Cheshire communities
6 July 2022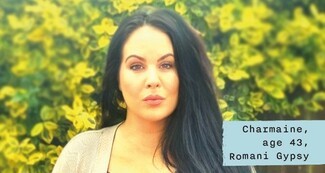 New scheme created by domestic abuse charity My CWA (formerly Cheshire Without Abuse) - in partnership with the Cheshire East Domestic Abuse Hub (CEDAH) and the Cheshire Constabulary – aims to reach specific audiences across Cheshire
Lighthouse to encompass collaboration with members of marginalised groups, authentic representation of communities in campaign images and using native language in outreach
The initiative's first poster campaign features members of the Gypsy, Roma and Traveller community to mark Gypsy, Roma and Traveller History Month last month
Cheshire, UK – XX 2022 – A new domestic abuse initiative Lighthouse is to be rolled out across Cheshire to reach marginalised communities.
Created by domestic abuse charity My CWA (formerly Cheshire Without Abuse) - in partnership with the Cheshire East Domestic Abuse Hub (CEDAH) and the Cheshire Constabulary - Lighthouse will identify and collaborate with communities to educate people on the services available to them.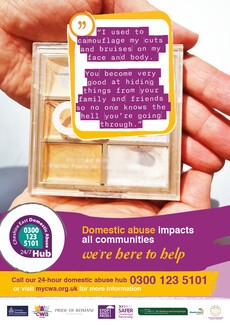 By representing the communities in campaign images, using native languages in outreach and improving accessibility to services, Lighthouse hopes to engage with people who need help but have felt unable to reach out, haven't known where to turn or felt there wasn't a service suitable for their needs.
Beverley Wrighton, My CWA Deputy Chief Executive, explains more: "Our services have always been available to those who need them across Cheshire but our challenge has been reaching certain groups of people in the county and showing them that we can offer the specific support they may need – whether that be language-support through interpreters, accessibility support for those with disabilities or simply an understanding of and respect for their cultural and religious beliefs. By reaching these communities and empowering people to speak out, seek help and shape the way support looks for them, we know we'll be able to help even more families in Cheshire affected by domestic abuse."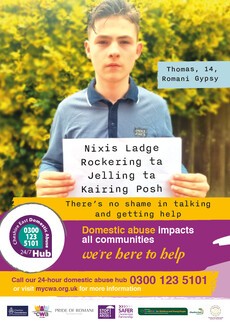 The Lighthouse initiative's first poster campaign features members of the Gypsy, Roma and Traveller community holding signs written in Romanes language - with messages including 'there's no shame in speaking and getting help' and others featuring excerpts from a real-life story of a domestic abuse survivor within the community. The posters were debuted at the North West Pride of Romani event in Nantwich on 24th June, held during the Gypsy, Roma and Traveller History Month to celebrate gypsy and traveller heritage and culture.
Through the posters, Pride of Romani founder Charmaine Abdul-Karim, hopes people experiencing domestic abuse and honour-based violence within the gypsy and traveller communities will be encouraged to seek help: "We hope that by being part of this campaign, people who are suffering from domestic abuse and violence from within The Romany Gypsy and Travelling communities can see there is help out there.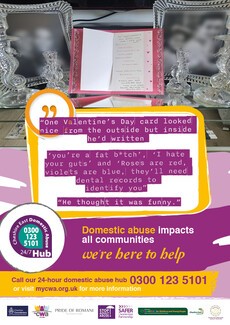 "For us, the importance of having representation of people from our communities in messaging is hugely important. It's an essential part of people coming forward for help. When people see others who look like them on a poster or leaflet it will give them hope: 'if they can leave maybe I can too'.
"Our message is very clear to anyone from our communities: there is help out there if you need it, when you're ready break the cycle of abuse. It's not our tradition or values to abuse those we love. I want those in need to know there is no shame is asking for help and starting over, that they have every right to the same help as everyone else."
Beverley Wrighton also comments on the campaign: "We understand there are huge cultural barriers to accessing support for domestic violence and abuse within certain communities – such as the Gypsy, Roma and Traveller communities we're engaged with currently – and we're determined to make our message clear: we are here for you and we can help."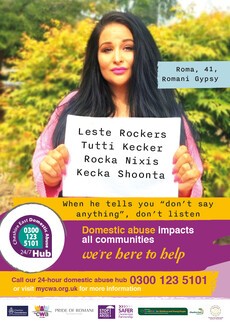 "We're also working closely with the Deafness Support Network to improve accessibility and support for those within the deaf community and welcome the recent launch of a new app to enable deaf people to communicate with 999 call handlers via a sign language interpreter. We want to make sure voices are heard and everyone has the support they need, when they need it, and the amplified voices scheme is a crucial step towards making that happen."
About My CWA
My CWA supports anyone affected by domestic abuse. The charity runs counselling and recovery programmes for victims and perpetrators of domestic violence and offers temporary crisis accommodation to people who need to leave their homes urgently.  My CWA has a clear vision – a healthy community where adults and children can live free from the fear of domestic abuse. Please visit the My CWA website for more information: www.mycwa.org.uk
By TT News/My CWA press release
---