WE ARE GR8 - and International Roma Day April 8th
8 April 2019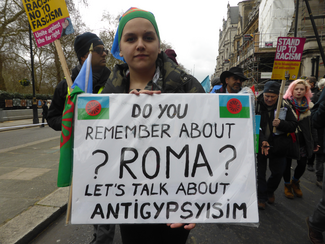 On the 16th March 2019, Stand Up To Racism organised a march through central London to unite people against fascism. It was a big emotional day for me, the first time in my life I have been on an anti-racism/fascism demo. When my Dad first came to London in the '50s, there were signs on pub doors and hotel windows; 'No Blacks, No Irish, No Dogs.' I grew up in London in the '70s, when the National Front and British National Party were roaming the streets, "p*ki-bashing" was a national sport and racism was an 'accepted' everyday concept that affected us daily in terms of how many people spoke to us and treated us. Marching through the streets of London with so many other people who are against racism and fascism, and for love and solidarity was a beautiful and empowering thing, it brought tears to my eyes to see such diverse people all standing strong together.
My video, We Are GR8, features Vice-Chair of the Gypsy Council, Virgil Bitu, who was invited to speak to the crowd about the racism faced by Roma communities across Europe. His aim is to unite people under the banner We Are GR8, (Gypsies, Roma and 8 other Roma related groups) "We are a GREAT nation with a GREAT history and culture and our homeland is the GREAT world!" Please join us on April 8th at 11am in Parliament Square, London for the International Roma Day protest and celebration.
I, Melissa Gunasena am an artist, activist and documentary filmmaker and I am currently making a series of short films aimed to educate and empower people, about the activism, history and current situation of Gypsies, Roma and Travellers. If you or your group would like to speak with me about this or to be featured in one, please contact me at meluk98@yahoo.com or on fb.
(Main Photo: Denisa Virgil and members and supporters of the Gypsy Council and Roma London at the Stand up to Racism rally (Melissa Gunasena/Mel Ting)
www.facebook.com/meltingartsandmedia
---