Thomas McCarthy and Viv Legg release new album of Gypsy/Traveller songs
20 December 2017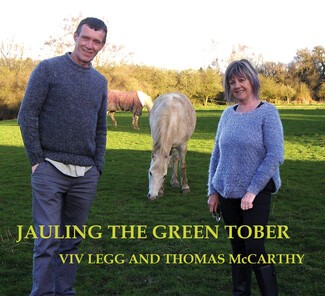 Irish Traveller Thomas McCarthy and Romany Gypsy Viv Legg have come together to release a new album of traditional folk songs.
The two singers – both recognised and respected on the traditional folk singing scene - recorded the songs for 'Jauling the Green Tober' (Travelling the Green Roads) earlier this year and the album is available to buy now.
With these recordings, Viv and Thomas are both revisiting the green routes of their own family heritage of songs. After meeting at the Bodmin Folk Club, the idea of recording a joint CD emerged as they chatted together and eventually the idea became a reality.
These are songs – some over two centuries old – from two differing influences and cultures unified by aspects of the rich lineage of Romany and Traveller life.
Viv's family base is in the West Country of England and Cornwall, and Thomas grew up mainly in London, but has family roots from Birr, County Offally, in the heart of Ireland.
The sheer joy of these two superb singers in sharing their family memories and experiences has filtered into their performances and so into these recordings, as both bring extraordinary skills to their singing.
Thomas McCarthy has recorded two previous albums, 'Round Top Wagon' and 'Herself and Myself', and all three albums are available to buy from his website.
The album was produced by Chris Brown.
---