'P*key' merchandise sparks complaint to advertising watchdog
24 May 2017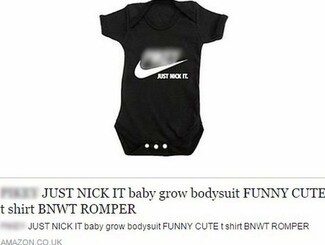 A Notts Gypsy woman has complained to the advertising watchdog about online adverts for racist 'p*key – just nick it' merchandise that mimics and misuses the NIKE brand.
NIKE promised to "investigate" the misuse of its name after Gypsy and Traveller campaigners prompted a BBC Newsbeat investigation which revealed that hundreds of items of racist merchandise - including rucksacks, hoodies and baby-grows, emblazoned with the words 'p*key: just nick it'- were available for sale on eBay and Amazon.
Nathalie Bennett made the decision to complain after an executive from the Advertising Standards Authority (ASA) spoke about the adverts on BBC Radio Notts Radio directly after her son, Danniel Bennett, had been interviewed on the same programme about the same subject.
Craig Jones, Communication Director for the ASA, told the BBC presenter that they couldn't look into the adverts because no one had complained about them and it would be "difficult to say" if the adverts broke their advertising code until a proper investigation had taken place.
However, he added that they had a similar case involving Channel 4's 'Bigger, Fatter, Gypsier' adverts for the TV series 'Big Fat Gypsy Wedding that were investigated and found to be offensive towards Gypsies and Travellers and then banned by the ASA in 2012.
"We investigated and upheld complaints against two of them," he added. Both had children or young people on them said Craig Jones.
"We found that both the adverts upheld stereotypes and they were banned," said Craig Jones, adding that they were banned on "similar grounds that your previous guest (Danniel Bennett) was just talking about in terms of perpetuating negative stereotypes."
"If someone was to complain about to us (about the 'p*key' adverts) that would be something we would think pretty seriously about," he added.
Speaking to the Travellers' Times about the adverts, Wayne Smith, 17, from Ammanford in Wales, said that that when he saw the racist merchandise he was "truly disgusted".
"I had heard about the racist merchandise," said Wayne, "but thought that surely they wouldn't be able to be listed or sold on sites as it is racist towards our culture."
"Young children wear NIKE products and this could influence them to think that Gypsies and Travellers are actually thieves."
---