Local Independent Advisory Group Opportunity
4 May 2017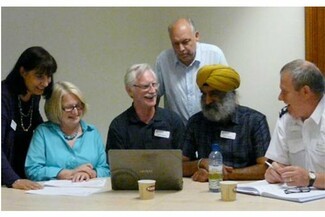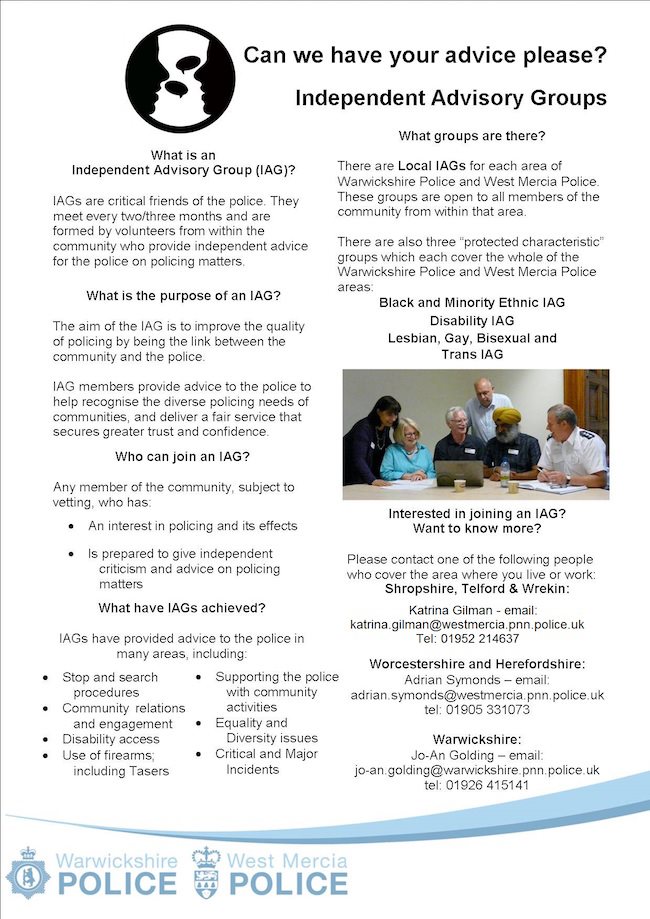 Local Independent Advisory Group
Role Profile
Introduction:                       
This describes what we are asking you to do by becoming a Local Independent Advisory Group (LIAG) Member. It gives an outline of the main activities that we will be asking you to carry out. This is not an exhaustive list and there may be other activities that the group identifies. 
Purpose of the Role:         
The key aim of an Independent Advisory Group (IAG) is to improve the quality of policing, by being the critical link between diverse communities and the Police.  In other words, IAGs act as a 'Critical Friend' to the Force.  They challenge the Police to move away from conventional thinking and maybe 'doing things in a way that they have historically always done them', by instead giving an independent perspective on issues.  The success of the relationship is wholly reliant upon both parties, namely the Force and the IAGs, working as genuine partners, with honesty and integrity and them having a shared goal, which in this context is the mutual driving ambition to make a difference in improving service delivery.
To provide independent advice to West Mercia and Warwickshire Police, to help recognise diverse police needs of the communities served, and deliver a fair and impartial service that secures greater trust and confidence.
You will be expected to:
1.    Attend meetings of the group and, when necessary, working groups and/or sub-groups.
2.    Share your personal knowledge, awareness and experience of community issues with the group.
3.    Provide advice to the police to help them monitor the quality of service they provide to the diverse communities of West Mercia and Warwickshire, with particular emphasis on
3.1  Build the relationship between West Mercia and Warwickshire Police Service and its diverse   communities and groups based upon disability, age, religion or belief, race, sex, sexual orientation, gender reassignment, culture, lifestyle and any other factors.
3.2   Reviewing Hate Crime and the way police respond to such incidents.
3.3   Advising in Critical and/or Major Incidents or policing operations.
4.    To provide advice and guidance to West Mercia and Warwickshire Police Service on its development and introduction of policies and procedures. This will include, for example  policy and procedures relating to Equality and Diversity, use of force and stop and search.  This will also include contributing to the process of policy impact assessment and monitoring.
5.  To contribute to recruitment of new members and participate in community events as deemed appropriate by the group.
As a critical friend, you are asked to constructively advise and challenge Warwickshire Police & West Mercia Police on their policies, procedures and practices and advise the Force as to how they might enhance these key areas, to improve their policing performance.  Becoming an Independent Advisor is challenging and rewarding, but you will get immense satisfaction in knowing that through your efforts, the Force is improving service delivery to benefit all local communities, throughout the policing area.
Key knowledge and skills
These are the key knowledge and skills that you will need to enable you to carry out the role of Local Independent Advisory Group (LIAG) member in an effective way.
We believe that it is important for you to be able to:
Express and explain your own views to others
Listen and consider other people's views
Question and challenge the views of others in a constructive way
Speak on your own behalf as an individual, and as a representative of the group when appropriate.
Work as part of a team and contribute to the success of a group initiative
Work with people from other parts of the Force area
Work with people from diverse backgrounds
Consider your own biases and prejudices
Make a contribution to influence policing strategy and policy
Contribute the time, energy and commitment to attend regular meetings
Have experience of:
Working with other people on issues of mutual interest over a period of time (e.g. voluntary work)
Sharing your views and understanding of issues with others (e.g. in a family, community or work setting)
It would also be useful if you:
Have experience of:
Balancing commitments and time in an effective manner (e.g. managing a home, childcare and domestic responsibilities)
Interacting or working with people of all ages and backgrounds
Working with people who have differing views to your own (This may include religious, political, lifestyle etc.)
Attending meetings
Working and taking decisions as part of a team or group
 Communicate by email, have access to review and send documents in electronic formats.  This is not essential as we will make any necessary adjustments e.g. providing information in Braille, as spoken word on CD or as a paper copy.
Have an interest in:
Policing issues and current affairs, specifically in respect of the ways in which they affect your local region / area.
Encouraging and promoting good relationships between the police and communities
Challenging and combating institutional discrimination
How incidents of a sensitive nature should be handled
The issues associated with recruiting, promoting and retaining staff from "hard to reach" groups.
How police officers should be trained
Code of Conduct and Declaration of Interests
Confidentiality
As a member of the Local Independent Advisory Group (LIAG) you may necessarily be acquainted with and acquire information that has not yet been made public and is still confidential. It will be regarded as a betrayal of trust to breach such confidences. You should never disclose or use confidential information arising from the work of the Group for your own personal advantage or for anyone known to you or to the disadvantage or discredit of the Group, the Police or anyone else.
Apart from the breach of trust there may be cause for prosecution under the Data Protection Act for the breach of confidential information.
Identification
An identification badge will be supplied which must be worn when on LIAG business only, and remains the property of West Mercia and Warwickshire Police.  If you are no longer a member of the LIAG the badge must be returned. Your identification should be worn and prominently displayed whenever you are attending police premises.
Gifts and Hospitality
1.  You will need to treat with caution any offer of gift, favour or hospitality that is made to you personally, knowing you to be a member of the LIAG. The person or organisation making the offer may be doing so to obtain information or trying to influence a decision.
2.  You are personally responsible for all decisions connected with the acceptance or offer of gifts or hospitality and for avoiding the risk of damage to public confidence in the LIAG.
Disclosure of Interests
1.    If you have a vested interest in a matter arising at a meeting of the LIAG or through its work you should always disclose it. Having declared an interest you may be asked to withdraw from the meeting during discussion. It is open to you to declare a vested interest in any work of the LIAG. Consider whether the public would regard your interest as so closely connected with the matter in question that you could not be expected to be impartial.
2.    The opportunity to make a declaration of interest will be given at the start of each meeting. However, members can at any point during a meeting declare an interest when it becomes apparent they have one.
3.    You should at all times avoid any occasion for suspicion and any appearance of improper conduct. You should not allow the impression to be created that you are, or may be, using your position to promote a private or personal interest, rather than forwarding the general public interest. You should ask yourself whether members of the public, knowing all facts of the situation, would reasonably think that you might be influenced by it.
4.    Having made a declaration it will be open to the LIAG to decide if the work of the Group requires you to continue to take part in a meeting that is discussing a matter in which you have an interest. If opinion is divided and there is equality of votes the decision of the Chair shall be final.
5.    If in doubt about the need to disclose an interest, disclosure should be made, and the advice of the Group on whether you should continue to take part in the business under consideration should be observed. Decisions will be taken by the LIAG solely in terms of the public interest. LIAG members will not place themselves under any financial or other obligation that might influence the proper performance of the LIAG in carrying out its role.
Objectivity
All appointments to the LIAG will be made on merit and in accordance with the terms of reference on membership.
Accountability and Openness
The LIAG will be accountable to the public and therefore appointments, decisions, reports and feedback to the police will be made public (except where confidentiality in relation to individual cases is required). The LIAG will work in accordance with its terms of reference and its overriding purpose:
"To provide advice and constructive criticism to West Mercia and Warwickshire Police, whilst
remaining sensitive to the needs of the whole community".
Leadership
All members of the LIAG are expected to promote and support this Code of Conduct and the principles encapsulated in the terms of reference, for the benefit of the communities in West Mercia and Warwickshire.                    
You are required as a member of the LIAG to sign the disclosure that you will abide by the conditions set out above.
PLEASE DOWNLOAD ATTACHED DOCUMENTS FOR MORE DETAILS 
---