Government to look at "positive proposals" for tackling unauthorised camps
19 December 2017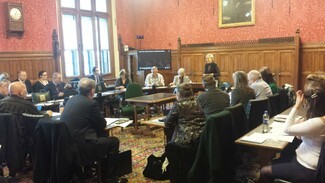 The government is set to meet with the parliamentary group for Gypsies and Travellers to discuss "practical and positive" solutions to unauthorised Traveller camps as part of a wide-ranging review of the law.
Kate Green MP, Secretary of the All Party Parliamentary Group for Gypsies, Roma and Travellers, said that they would soon be meeting with a government minister to discuss "practical and positive" solutions to unauthorised camps. The announcement came following a 'round table' meeting between the parliamentary group, Gypsy and Traveller campaigners and police and councils, on Thursday 23rd November, at the Palace of Westminster.
Speaking to the Travellers' Times, Kate Green, Labour MP for Stretford and Urmston, said:
"The roundtable discussion was a great opportunity to hear from a range of stakeholders including community members, NGOs, officers from local authorities, the West Midlands Deputy Police and Crime Commissioner, and a spokesperson for the National Police Chiefs Council lead on Gypsies and Travellers."  
"I am pleased that our discussion focused on practical and positive suggestions, echoing some of the more positive proposals made in recent parliamentary debates," she added.
"The Secretary of State, Alok Sharma, has agreed to meet, and we look forward to sharing positive suggestions with him."
The roundtable was called by the parliamentary group to help form their submission to a government review of the laws and police powers around unauthorised camps.
Helen Jones, CEO of Leeds GATE, focussed on the need for political commitment and local co-operation to address the wider accommodation needs of Gypsies and Travellers. Leeds City Council, in conjunction with Leeds GATE, has set a successful example through negotiated stopping, without the need to evictions, and has dramatically reduced the cost to the public purse and contributed to increased community cohesion, she told the meeting.
 Debby Kennett, CEO of London Gypsies and Travellers, presented research on unauthorised encampments in the east London boroughs, where fly-tipping and UEs were often treated by authorities and the media as "one problem. She told the roundtable that their freedom of information requests revealed that at least half of families being evicted from unauthorised encampments in London had no connection to any fly-tipping or other criminal activities. The issues need to be separated in order to ensure families with accommodation needs are treated fairly, she added.
Gypsy and Traveller campaigners are hoping to counter calls by many politicians and Police and Crime Commissioners for greater powers to evict. Some are even calling for trespass to be made a criminal offence rather than the civil offence it currently is. If trespass was made illegal, it would mean that Travellers on unauthorised camps could be immediately arrested by the police. A legal expert contacted by the Travellers' Times', said that any law that specifically made trespass by Travellers a criminal offence would be highly discriminatory and vulnerable to an immediate legal challenge.
---