'Nobody beats me twice' - Traveller Jimmy Sweeney set to win back place at top of bareknuckle boxing world?
7 September 2021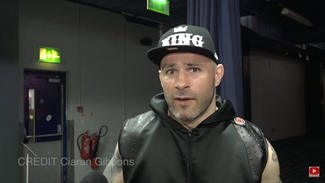 Jimmy Sweeney this weekend looks to reclaim his place at the top of the bareknuckle boxing world – but says he's already won his toughest fight.
The Sligo ring magician was the sport's undisputed No 1 – until he ran into Ricardo Franco in November, 2019.
Franco beat him on cuts and they meet again at London's O2 Arena on Saturday night, 11th September. The show will be screened on www.fite.tv.
Sweeney said: "This fight is massive, the biggest of my career. After everything I've been through it would be the icing on the cake to win. At the start of the year I was suicidal. I thought I was losing my girlfriend and my kids and it hit me hard. I wanted to take my own life. I went to see a psychiatrist and with the help of my friends and my girlfriend I've pulled through. I still get depressed, but I know I have friends I can talk to."
Sweeney's story mirrors that of another Traveller, Tyson Fury.
He famously fell apart after shocking the boxing world with a points win over Wladimir Klitschko in Germany in November, 2015.
Fury fought his way back to the top of the world – and Sweeney now looks to do the same.
He points out that in his bareknuckle career he has reversed his only previous loss, to Julian Lane, and added: "Nobody beats me twice."
Sweeney says it will be a very different version of himself Franco faces this weekend.
"The last time we fought I was struggling with the weight," he said. "I didn't have my movement and when I watch the fight back I think I look old.
WATCH! Interview with Jimmy Sweeney:
"Franco thinks that was me at my best – and it a shadow of the real me.
"He can think what he likes. I'm beating him this time.
"I know my boxing IQ is so much higher than his and he may be fitter than me, but I'm still fit enough to do the seven rounds.
"I think he's over confident."
Matthew Boze
---