Travellers' Times celebrates amazing national TV Award
18 November 2016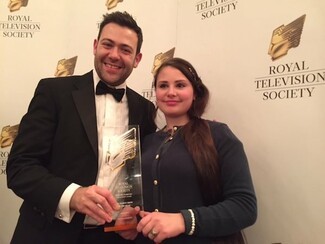 Main picture; TT's Lisa Smith and Rural Media Creative director Grant Black with the Royal Television Society award for the film 'The Oldest Show on the Road'.
The Travellers' Times Team at Rural Media is celebrating this week, having scooped the Diversity Award at the prestigious 2016 Royal Television Society Midlands Awards ceremony held on Thursday the 3rd of November in Birmingham.
The winning film The Oldest Show On The Road was originally commissioned for an event organised in partnership with BBC Outreach and The Travellers' Times – a multi-media project funded by Big Lottery and produced by Rural Media by and for UK Gypsy Roma and Traveller communities. Featuring a beautiful to-camera piece centred on a poem written and performed by Damian Le Bas, the film explores the media's skewed representation of Traveller communities here and around the globe.
Travellers Times - The Oldest Show On The Road from Rural Media on Vimeo.
Damian Le Bas has been the national champion, advocate and editor of Travellers' Times print and online publications since 2006 and our 'Editor at Large' since November last year. He is also a writer and filmmaker who has written original drama for BBC radio and is a regular contributor to BBC television and radio.
The Oldest Show On The Road is a stunning example of Rural Media's inimitable ability to deliver powerful stories from unheard voices. Nic Millington, Rural Media's CEO explains:
"We are utterly thrilled to have picked up the RTS Diversity Award for 'The Oldest Show On The Road'. We pride ourselves on our ability to work with communities, schools, groups and individuals to create issue-driven films, heritage and digital arts projects that raise awareness, influence change and celebrate rural life."
The Travellers' Times www.travellerstimes.org.uk – has been hosted and developed by Rural Media since 2000 to provide training and a voice for UK Gypsy, Roma and Traveller communities.  40,000 copies of The Travellers' Times are distributed annually, and TT Online receives over 39,000 page views per month.  
Rural Media www.ruralmedia.co.uk  comprises an award-winning Rural Media Charity and its trading arm, Rural Media Productions.   Founded in 1992 the organisation works locally and nationally using film, media and digital arts to educate, influence change and celebrate rural life.
Royal Television Society https://rts.org.uk/ embraces all aspects of television.  It is an educational charity that encourages and celebrates work in television and related fields, including young. Education and talent development is key to its work, offering bursaries and high profile platforms for emerging new talent.
---