Light at the end of the tunnel
7 August 2015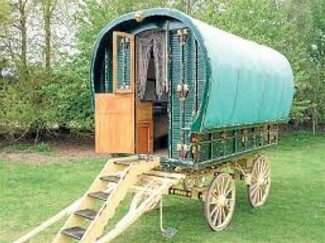 The Travellers Advice Team are very pleased to inform our readers that Charmaine Moore has obtained permanent permission for her site in Bromley and Sarah Coates has obtained a three year temporary permission for her site in Dartford. 
Many readers will be aware of the long haul story involved here but we will provide a brief summary below.  Charmaine Moore lost her first planning appeal and appealed against that to the High Court. 
That appeal was successful.  The Secretary of State for Communities and Local Government then appealed to the Court of Appeal but that appeal was dismissed.  Therefore the Planning Inspector's original decision was quashed and the matter was referred back to a different Planning Inspector.  In the meantime, Sarah Coates' appeal was now heading for a Planning Inspector.
Both our clients were separately informed that the Secretary of State for Communities and Local Government (then Mr Pickles) had recovered their appeals for his own decision because their land was in the Green Belt albeit that these were just applications for a single pitch Gypsy/Traveller site. 
Both our clients challenged this decision, as readers will also probably recall, in the High Court and the recovery process was found to be discriminatory and unlawful in a judgment in January 2015 (see our report on this judgment here).
The Public Inquiry for Sarah Coates took place over (in total) 19 days and Ms Coates was represented by the following: the Barrister, Tim Jones; the Planning Consultant, Dr Angus Murdoch; Parminder Sanghera from TAT.  During this Inquiry there was no guarantee of funding since an exceptional funding application under the Access to Justice Act had been made but not yet determined.  Fortunately, in the end, the application was allowed.  An application for exceptional funding for Charmaine Moore's Public Inquiry was also successful. 
However, it must be said that these exceptional funding applications were only successful after, in one case, a judicial review against the Director of  Legal Aid Casework had been lodged and, in the other case, after a pre-action protocol letter had been sent to the Director.  We believe that these remain two of the only five Housing cases granted exceptional funding since the scheme was brought in, in April 2013
Angus Murdoch was the planning consultant on both cases.  Tim Jones and Stephen Cottle were the barristers and Parminder was the solicitor on both cases.  Well done to this team for these really excellent results which we hope have now dislodged the backlog of decisions on Green Belt Gypsy and Traveller cases (we have heard of one other decision since then). 
Obviously, above all, well done to our clients who had to go through such a long process to obtain this result. 
From The Travellers Advice Team
The members of  TAT are Chris Johnson, Parminder Sanghera and Sharon Baxter. Thanks to our TAT Administrator, Emma Westwood, for organising this edition of TAT News.
Community Law Partnership Website
On our website you can find:
News items about Gypsy and Traveller issues
Updates on campaigns and consultations
Recent Gypsy and Traveller legal cases 
Judgments and reports on our leading cases 
Links to Gypsy and Traveller groups
And, of course, previous TAT News E Bulletins. 
Plus lots of information about the Housing and Public Law Teams who, amongst other things, represent Gypsies and Travellers in housing and homeless Gypsies and Travellers who are seeking housing in the Midlands and surrounding areas. For full details of the Housing Team click here.
For the Public Law Team, click here.
---