Higher learning? Why the relocation of the Central European University from Budapest to Vienna should concern Roma students
2 November 2018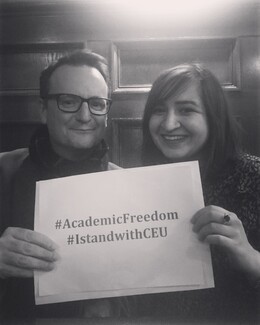 The forced relocation of the Central European University (CEU) from Budapest to Vienna is the latest casualty of the Hungarian Government's campaign of harassment against George Soros, and against Roma students… say Brigitta Balogh and Colin Clark.
Long Read
At a time when more and more young people from Roma, Gypsy and Traveller backgrounds across Europe are entering college and Higher Education, the recent news from Budapest has been a critical blow.
From the next academic year, 2019-2020, the Central and European University (CEU) will move its campus from Budapest, Hungary to Vienna, Austria. This action is being taken due to the Hungarian Government, under the leadership of Viktor Orbán, failing to conclude an agreement that would have allowed the University to continue to legally operate in Hungary as a U.S institution after a recent legislative change.
Since first opening its doors in Budapest in 1991, the CEU has been a pioneering institution in advancing the cause of Romani Studies and the social and educational inclusion of Roma, Gypsy and Traveller students.
The founder of the University, the Hungarian-American financier and philanthropist George Soros, has donated a huge amount of time, energy and resources to ensure that there is at least one place of higher learning in Eastern Europe that is open and responsive to the needs of Romani students in terms of pastoral support and curriculum content.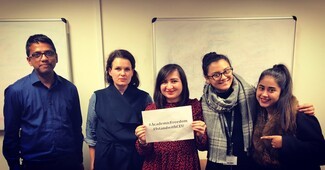 The intended move to Vienna is concerning for a number of reasons, both symbolic and practical. For one thing, the move from 'East' (Hungary) to 'West' (Vienna) sends out a message that the CEU approach to tolerance, diversity and learning is somehow 'not welcomed' in the East. Further, while on a practical level and considering the human factor, it is reasonable to believe that the relocation will prevent many staff and students to continue working for CEU. Budapest to Vienna is not a simple or inexpensive commute.
It cannot be emphasised enough how vital basing the Romani Studies University programmes in Budapest has been. Many of the staff at CEU are of Romani background and heritage, such as Professor Iulius Rostas and Professor Angéla Kóczé, and they act as role models and champions for the 1,500 students entering the institution each year.
European Roma, Gypsy and Traveller intellectuals have had connections with CEU for many years that have led to greater cooperation across Europe. The Roma Rights summer school, and the Romani Studies Masters and PhD programmes, have enabled staff and students to form a new and sustainable Roma intellectual middle-class. Orbán's attacks on Soros and the CEU is a clear indication that he fears us all. By way of example, Colin Clark has been a returning guest lecturer at the summer school and Traveller Times' Lisa Smith and Brigitta Balogh first met in 2015 during the CEU summer school.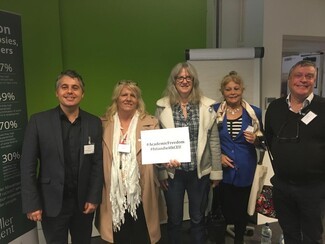 The wider background to these developments in Hungary is also revealing. Orbán has declared Soros as an 'enemy of the state' even though he was himself in receipt of a Soros scholarship to study for a semester at Oxford University in 1989. The anti-Soros campaign has resulted in a witch-hunt with billboards carrying slogans like "Don't let George Soros have the last laugh" (often with added anti-Semitic graffiti slogans).
Further, four days after Orbán's re-election in April this year, a Hungarian magazine called Figyelő, published a list of so-called "Soros' mercenaries" and CEU was on the top of that list. Afterwards the magazine also named The Hungarian Helsinki Committee, currently helping refugees and asylum seekers, Amnesty International, Transparency and Roma Versitas, who support young Roma people in higher education. These are just a few organisations named as 'mercenaries'.
It is clear that Orbán, in targeting such organisations, is violating academic freedom, basic human rights and European Human Rights Conventions. Since 2016, Hungary has been under infringement proceedings for systematically and openly segregating Roma pupils in education. Recently, the Open Society Foundation was also forced to leave Hungary for Berlin and now with the CEU relocation we are witnessing something that has not happened in Hungary, or indeed Europe, for many years: a University closing its doors due to political pressure from a ruling Government.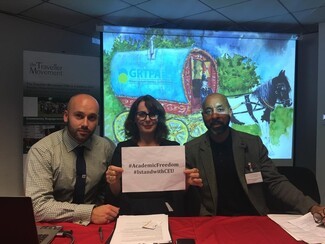 Students at CEU have reacted to the news by protesting and demanding that CEU remains in Budapest. They are demanding that the Government changes its mind. However, although they have until the 1st December to sign off the legal agreement, which enables the university to remain in Hungary, it is highly unlikely Orbán's regime will do this.
Once more, all eyes are on the European Union to see if it will stand up to Orbán. It seems that when it comes to the Hungarian government, the EU has no 'red lines' and it tolerates his illiberal measures. It might be the case that the ongoing Brexit negotiations between the EU and UK are occupying the EU's time and attention. 
However, the move to Vienna might give CEU some future stability so it can return to its mission of "socially and morally responsible intellectual inquiry". It is just a great shame that this will now happen away from those Eastern parts of Europe where most Roma are located and where the discipline of Romani Studies developed its critical turn. Hungary's loss will be Vienna's gain.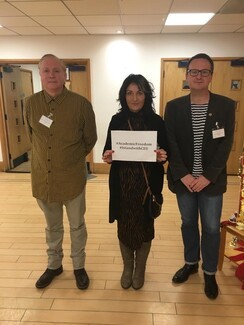 ---